Dodo Brands, a renowned business collaborator with a strong digital presence, has long recognized the importance of maintaining robust communication with its customers through its mobile application. Notably, Dodo Brands fully embraces its unique brand philosophy by managing the entire customer engagement cycle in-house, without relying on third-party aggregators like Uber Eats or Glovo. This ethos extends to their delivery services, ensuring a comprehensive, seamless experience for the customer. In this paradigm, conducting retention campaigns and providing an experience not found in other apps is paramount. The incorporation of games and gamification elements serves as a perfect example of this, engaging users and further solidifying their bond with the brand.
However, they were facing challenges regarding their business focus within the mobile application. The launch of their new brand manifesto, "Comfort Zone", needed to be communicated effectively to their clients and potential customers. The manifesto aimed to create a cozy, warm space for all Dodo customers and raise awareness among those not yet familiar with the brand. The challenge was to shift away from aggressive sales mechanics towards a more relaxed and narrative-driven approach to customer engagement. Yet, achieving this, all while trying to enhance brand familiarity and customer retention, proved to be a task that required some innovative thinking.
Brand-new Dodo Game
Dodo Brands found their innovative solution in a concept that's been around since the 90s: Tamagotchi. Remembering the positive experience of past games, Dodo Brands turned to InAppStory for help. Borrowing from the idea of a virtual pet, Dodo Brands partnered with InAppStory to breathe life into a creative solution. Together, they jointly designed an engaging in-app game called "Tails". This unique and simultaneously captivating game, seen as a virtual comfort zone, allowed users to adopt and interact with a virtual pet (a cat or dog), adding a unique and engaging dimension to their app.
The game introduced an intriguing element to the app, designed to captivate users and subtly promote Dodo's brand repositioning. The aim of the game was for users to nurture their virtual pets, spend time with them, play, and arrange their habitats. To do this, users needed to earn virtual points, which could be gained through gameplay and by making real purchases in designated categories, effectively driving sales.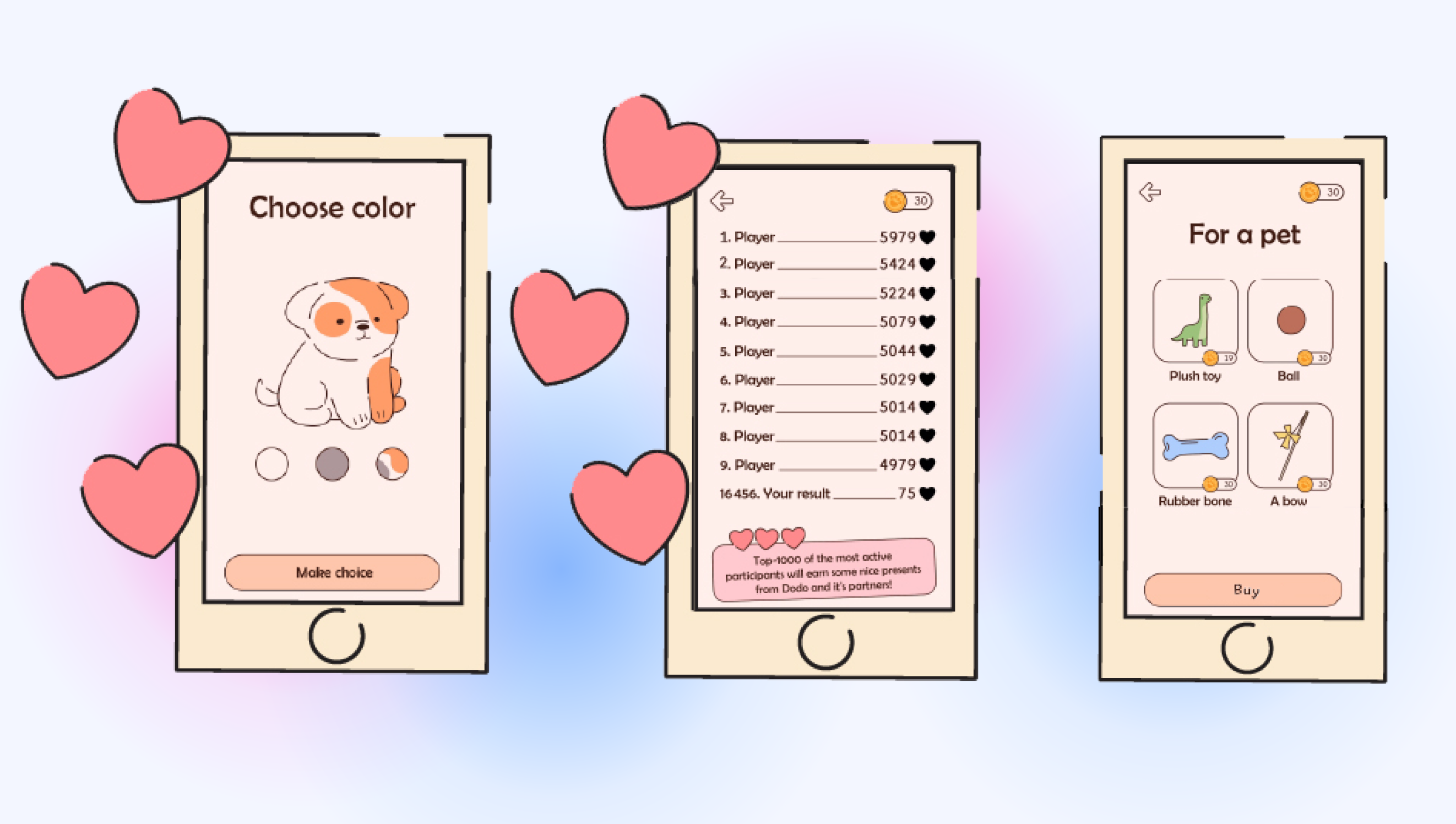 Moreover, this game was tied to a laudable cause through a partnership with several charity organizations dedicated to the care and provision for homeless animals. Each time a user engaged with their virtual pet, Dodo channeled a portion of its revenue to this charity. Thus, the act of caring for virtual pets was also an act of caring for real-life animals.
This unique game dynamic not only boosted engagement and brand loyalty, but it also led to increased sales and had a significant social impact. The game was designed in such a way to deeply resonate with the users, making them feel more connected to the brand and the cause it was championing, and encouraging them to spend more time within the app.
This collaborative venture between Dodo Brands and InAppStory paved the way for a more interactive, narrative-driven approach to customer engagement within the app, successfully aligning business goals with the heartwarming intent of the "Comfort Zone" campaign.
Business Results

The "Tails" game was a resounding success. Dodo achieved a breakthrough in the like-for-like (LFL) revenue, which skyrocketed by 16%! Furthermore, the number of orders catapulted by an astounding 50%. This underscores that Dodo didn't just retain its existing customer base, but also became a magnet for new ones.
The game saw an impressive 22.7% conversion rate in-game Stories. The average session time also saw a considerable increase, with users spending an average of 73 seconds in the app.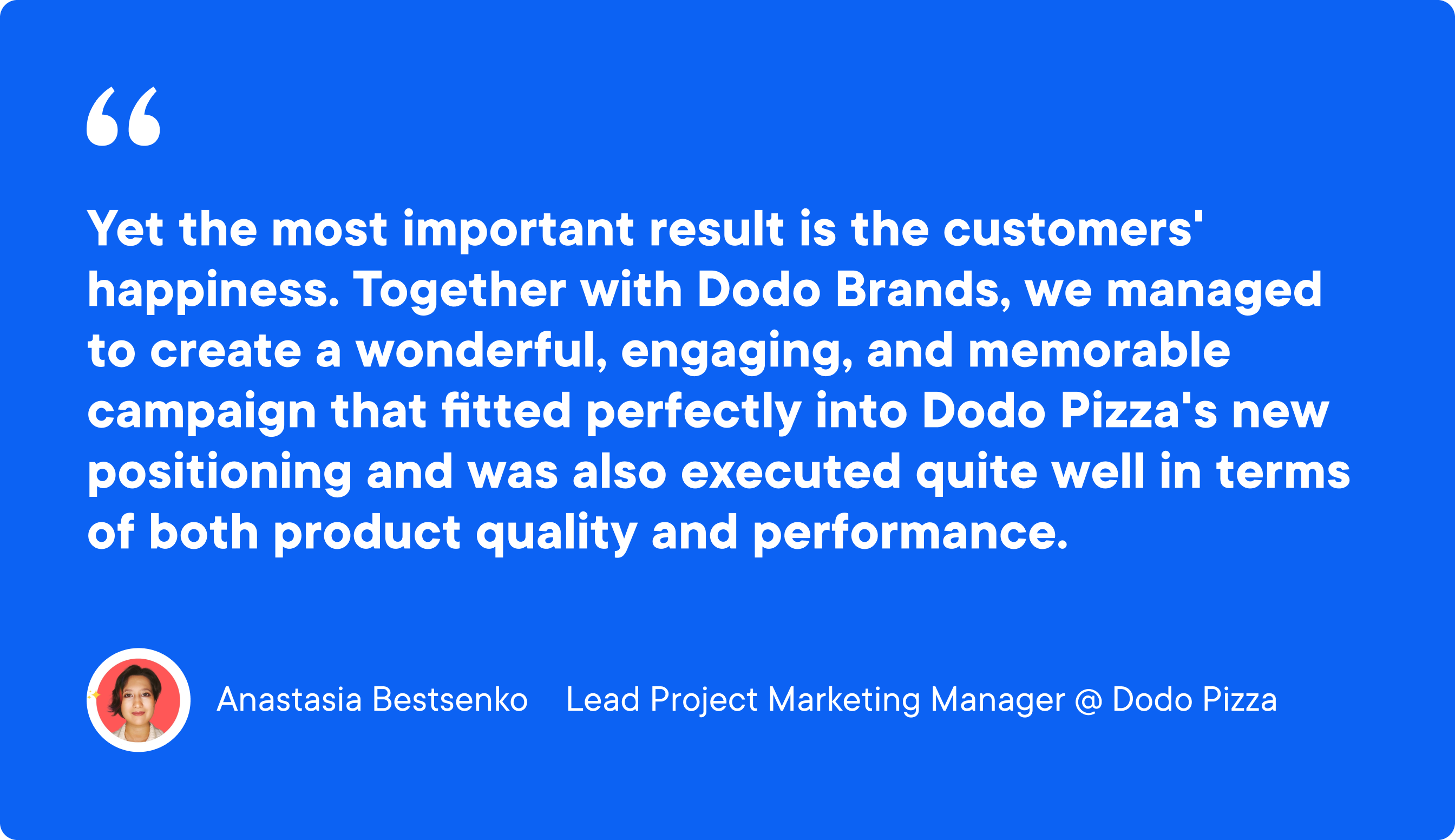 The game attracted an impressive number of active players - 456 thousand, which was more than double the previous record of 192 thousand. Among these active customers, there was a notable increase in order frequency. On average, these users made 1.5 orders more than customers who didn't participate in the promotion.
Additionally, Dodo, along with their customers, managed to raise $25,000 for several charity foundation. This money was able to cover 6 months' worth of food for the animals in the charity shelters, as well as more than 100 visits to a veterinarian for animals that required medical attention.