Mobile Marketing
7 Core mobile marketing tips
In the past decade, mobile technology has rapidly become the center of nearly everything, forever altering consumer behavior. Therefore, it should not come as a surprise that this new media has also had a significant impact on other fields, like e-commerce, brand awareness, and customer service.
But as mobile marketing's popularity has increased, competition among mobile marketers has intensified. Consequently, what is required to be a successful mobile marketer? In this article, we provide you with the most effective mobile marketing tips for enhancing your business.
What is mobile marketing?
Mobile marketing is a multi-channel, digital marketing approach that aims to contact a target audience on their smartphones, tablets, and/or other mobile devices through websites, email, SMS and MMS, social media, and applications. In recent years, consumers have begun to move their focus (and spending) to smartphones. In order to build authentic multichannel interaction, marketers are using a similar approach. Marketing becomes more fractured as technology fragments. And in order to attract and retain the interest of prospective purchasers, content must be strategic and highly customized.
7 Core Mobile Marketing Tips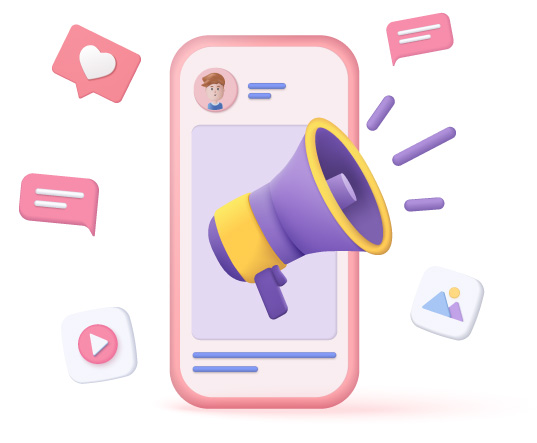 Mobile Friendliness
If you want to develop a mobile marketing plan, you must ensure that your website is mobile-friendly. Otherwise, you will be incredibly effective at acquiring new people via mobile but will lose them once they arrive at your site.
Check out our mobile SEO advice if you don't know where to begin when it comes to making your site mobile-friendly. This post contains all the tools and resources necessary to optimize the performance of your mobile website.
Interact with your users
The engagement rate is one of the most essential mobile marketing tips for every business out there. You can't imagine a company product or a service without any active users in it. But another question is: how exactly do you make a solid engagement out of the available tools.
InAppStory provides a whole bundle toolkit that you can actively use to automate the engagement with your audience inside a mobile application. In fact, our tool consists of several components that create an immersive and interactive experience for your users. Just to name a few examples, our experts offer:
Onboarding Screens - whether it's about your own mobile application features or relevant educational material, the onboarding sets of screens will be able to provide short and impact content that every user can easily digest.
Quizzes - instead of a boring survey, you can collect the necessary feedback from users through a simple and funny quiz.
Gamification - be it an interactive Candy Crash similar game or an adventure-based one, you might want to incorporate them into your mobile app. The engagement and stickiness rates will surely go up in a matter of a few months.
App Stories - if you want to share valuable and informative content with other people about your own organization, then mobile Stories can also provide you with such a feature.
As you can see, our toolkit based on SDK allows us to greatly simplify the content approach and at the same time impact your major mobile app metrics. If you want to see the full potential of the Stories feature, then try it out for FREE for an entire month. All you need to do is leave your contact details and we'll be able to give you access within 24 hours!
 
Send out the in-app Notifications
Appointment reminders and delivery alerts are excellent instances of proactive and helpful mobile marketing messages. Appointments missed can be costly to your business. Sending appointment reminders or the information and expected time of a delivery can go a long way toward keeping clients satisfied and enhancing the efficiency of your organization.
Utulize brand assets
Unless you've had your head buried in the sand for the previous five to ten years, this is a no-brainer for any mobile marketer. Practically all mobile marketing strategies must include social media. If you're not using social media to enhance your marketing plan, you're missing out on a really useful resource.
Creating genuine brand-consumer interactions is only one of the numerous benefits of a solid social media strategy. Other benefits include improved SEO and increased conversion rates.
Keep up with the mobile trends
Providing a meaningful experience is a common denominator throughout all mobile marketing best practices. When marketers know how to harness context for relevance, they are assured of success.
 
It is crucial for businesses to stay abreast of the most recent digital and mobile marketing trends. There are constantly new and inventive tools and strategies you can use to enhance your mobile app, and it's vital that you take advantage of them to stay ahead of the competition. Keeping an eye on what your competitors are doing, enhancing client data, and utilizing developing technology are vital for remaining competitive.
Listen to consumers feedback
By gaining a deeper understanding of your mobile users, you will be significantly more positioned to meet their needs. With the aim of providing a seamless and user-friendly UX, mobile UX is something that must be continuously enhanced, especially if businesses intend to retain their customers' loyalty and satisfaction. This is when in-app feedback collection comes in handy.
 
Listening to your customers by gathering in-app feedback will not only help mobile marketers understand more about their users' wants and requirements, but it will also provide them with the information required to measure and enhance mobile performance.
Utilize the client's feedback because only the customer knows what he or she wants to see. Using their comments, issues such as bug reports are resolved in the app considerably more swiftly. This article provides further information on how to collect the finest in-app user feedback.
Enhance the UI
Mobile marketing is a totally different beast from desktop marketing. One of the most significant (and visible) differences is that smartphone screens are smaller. Therefore, the sizes of your buttons, text fields, and text should be significantly increased.
Your website's content should be visually pleasing when viewed on a mobile device. This includes huge font sizes, correctly sized and positioned photos, and large navigation buttons that make your mobile site easy to use.
Conclusion
Mobile marketing is here to stay, and research indicates it will grow in importance over time. Therefore, there has never been a better opportunity to begin implementing techniques that are effective.