Tele2 is a major telecommunications operator, known for its comprehensive digital presence, primarily through its mobile application. About 30% of all Tele2 subscribers have installed the company's mobile app, signifying its substantial user base. However, despite its popularity, the application has not yet achieved high levels of user engagement. Subscribers typically access the app only once a month, primarily to check their balance and top-up their accounts.
The key challenge for Tele2 is to transform the current services into a tool that will encourage more frequent app usage. The company seeks to educate its users about the multitude of services available beyond mobile account management in the app.
Tele2's primary business focus is to provide a superior customer experience through its mobile application. The app is not only an avenue for managing mobile services but also a channel for communication, loyalty programs, alternative billing, content services, digital retailing, and lots of other services. The challenge lay in how to increase this engagement in a way that was not only innovative but also interesting for users and that could increase the app's user retention.
 
Tele2 had identified that users enjoy gaming, but how could they introduce gaming in a way that resonates with the broad user base? They needed a game that would feel familiar, generate feelings of nostalgia, and simultaneously offer users the chance to earn tangible rewards. Tele2 also wanted to ensure the game's mechanics were simple enough for all users to enjoy. It's important to mention that this was a 'trial step' for Tele2. They wanted to launch the game to test metrics, and based on the results, plan for future development. Spoiler alert - it was a success!
A Whole Game Inside an App
Tele2 partnered with InAppStory to develop a game based on the old-school electronic games series. This nod to nostalgia was intended to appeal to a wide range of users, both old and young.
The game they created involved a schoolboy character writing an essay on "How I spent my summer". Users controlled the schoolboy, catching summer memories that floated toward him. These memories included objects like a swim ring, a bicycle, a rake, a fishing rod, and a tent. For each item caught, the user would earn points.
The solution was not just about creating an engaging game but also about offering tangible rewards. For this, Tele2 established a motivation where users could win prizes based on their earned points.
Creating a nostalgic game with rewarding mechanics was just one part of the solution. The other was ensuring it functioned well on the existing mobile application. For this, Tele2 and InAppStory worked together on the creative plan, the game plot, and the technical aspects, including server load calculations, reward system design, and fraud protection. In this way, they ensured that the game would be not only enjoyable but also technically sound and fair for all users.
Business Results

The implementation of the game inside the Tele2 application led to a significant increase in user engagement and retention. More than 171,000 unique users engaged with the game, demonstrating its widespread appeal. The total number of gameplays exceeded 422,000 times, indicating high replay metrics and sustained interest among users.
Furthermore, on average, each user who opened the game replayed it 2.3 times. This reveals that the game was not only attractive enough to draw users in for the first play, but it also had enough appeal to encourage them to play more than once. A look at the more enthusiastic users shows even more impressive numbers: the most engaged user played the game 203 times, and 19 users played the game more than 100 times. These figures illustrate how effectively the game tapped into users' interests and encouraged repeated interactions with the app.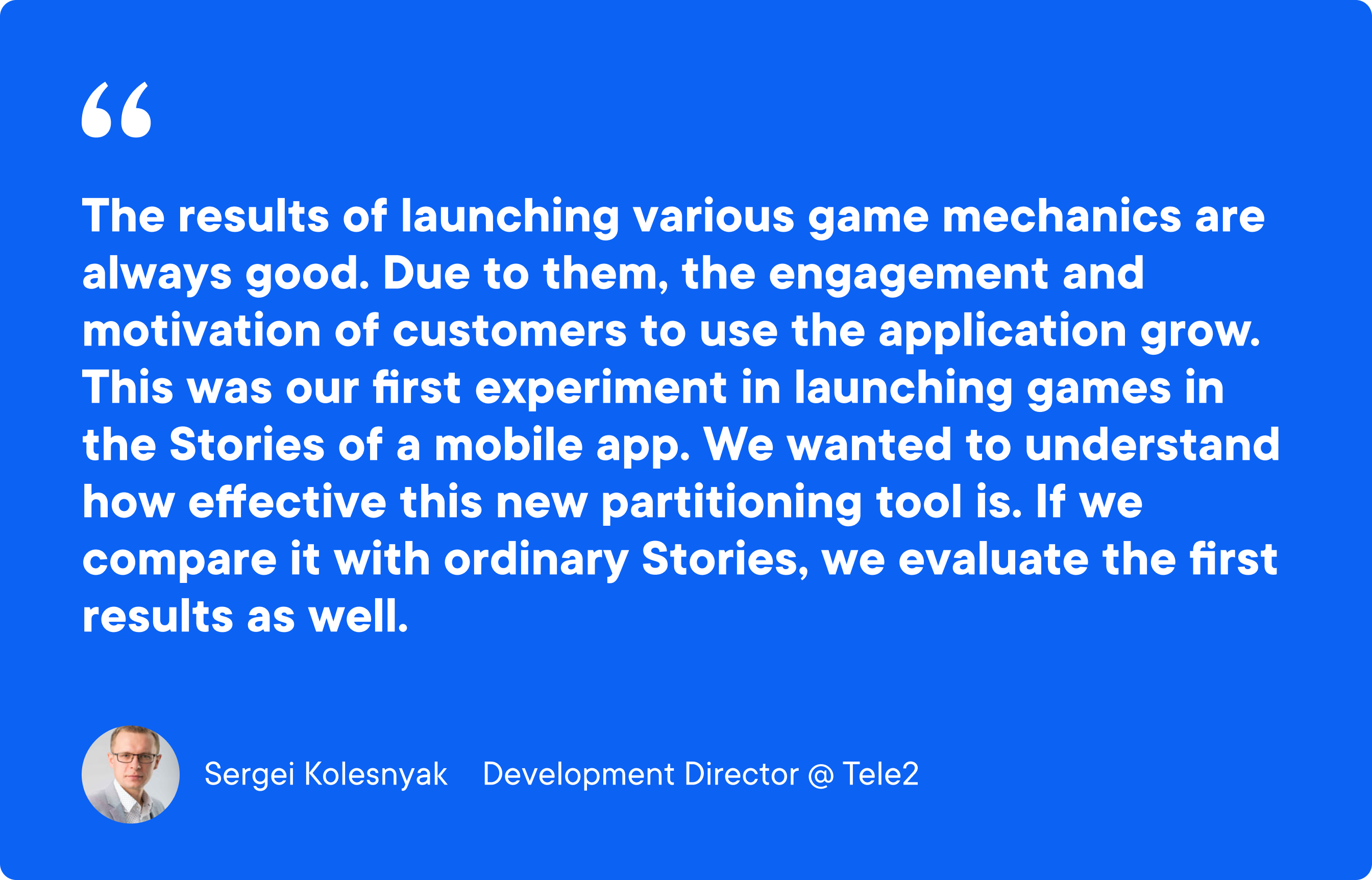 In terms of app usage, Tele2 observed an average increase in active mobile users by 40-50% when the game was launched. This significant increase indicates the game's effectiveness in not only attracting users but also retaining them. The fact that such growth does not depend heavily on specific game mechanics means that there is scope for further innovation and development of different in-app games.
Partnership with InAppStory allowed Tele2 to concentrate on its core strength, while all game development stages were properly outsourced. The game was highly recognized not only by subscribers but also by the market in general. As a result of this bright success story, Tele2 decided to continue long-term investing in gamification in collaboration with InAppStory.

Want to implement Games and achieve quick business results like Tele2? Book a meeting today!