METRO AG operates in the wholesale sector, providing a wide range of products and services to professional customers such as hotels, restaurants, and catering companies. With a strong presence in the industry, METRO AG understood the need to embrace digital platforms to stay competitive and meet the evolving demands of its customers.
The METRO AG mobile app faced several challenges that impacted its performance and user engagement. One of the main issues was the lack of differentiation inside the mobile app interface, which made it similar to regular grocery apps. Consequently, users did not perceive any distinct features or captivating elements that set it apart from other apps in the market. The overall similarity among grocery apps created a sense of uniformity and monotony, making it complex for METRO AG to stand out and gain a competitive edge.
As a result, METRO AG experienced a flat trend in conversion rates for digital orders and in commercial metrics such as completing the first order or finishing the purchase sequence. Users were frustrated while navigating the app due to the wide range of products available, making it challenging to focus on specific items. These were the challenges the METRO team encountered.
 
METRO growth marketers brainstormed innovative strategies to encourage mobile users to proceed with their purchases, educate them on app functionality, and offer culinary expertise. Additionally, they aimed to enhance the customer journey and meet user expectations. That's how they decided to pilot with in-app Stories.
Cooperation with InAppStory
To address the challenges and enhance its mobile app's performance and user engagement, METRO AG choosed to implement mobile app Stories provided by InAppStory. By leveraging the power of Stories, the company has successfully created a new communication channel, native to the user with a wide range of engagement opportunities. This expands their omnichannel power, addressing several marketing goals at once, and even allows them to achieve a budget economy (due to higher LTV and partial substitution of paid communication channels).
Solution #1: Stories Create Incremental Revenue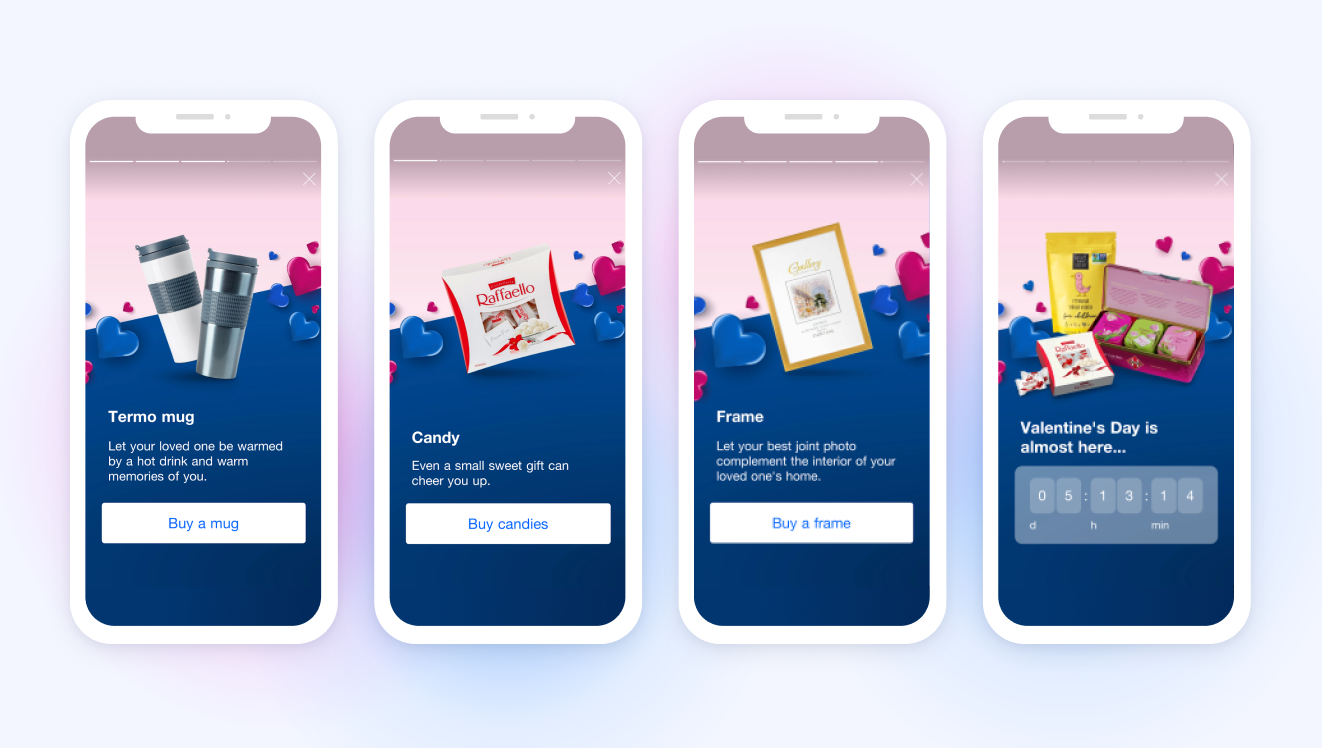 Mobile app Stories embedded METRO AG to stimulate purchasing behavior through the introduction of the "Product of the Day" feature. By highlighting a specific product each day with exclusive offers or discounts, METRO created a sense of urgency and excitement among its users. Compared to standard marketing activities, this approach encouraged users to make immediate purchases, thereby boosting conversion rates and increasing revenue. The integration of this commercial attribute in Stories played a crucial role in driving sales and improving the overall financial performance.
Solution #2: Stories Provide Interactive Experiences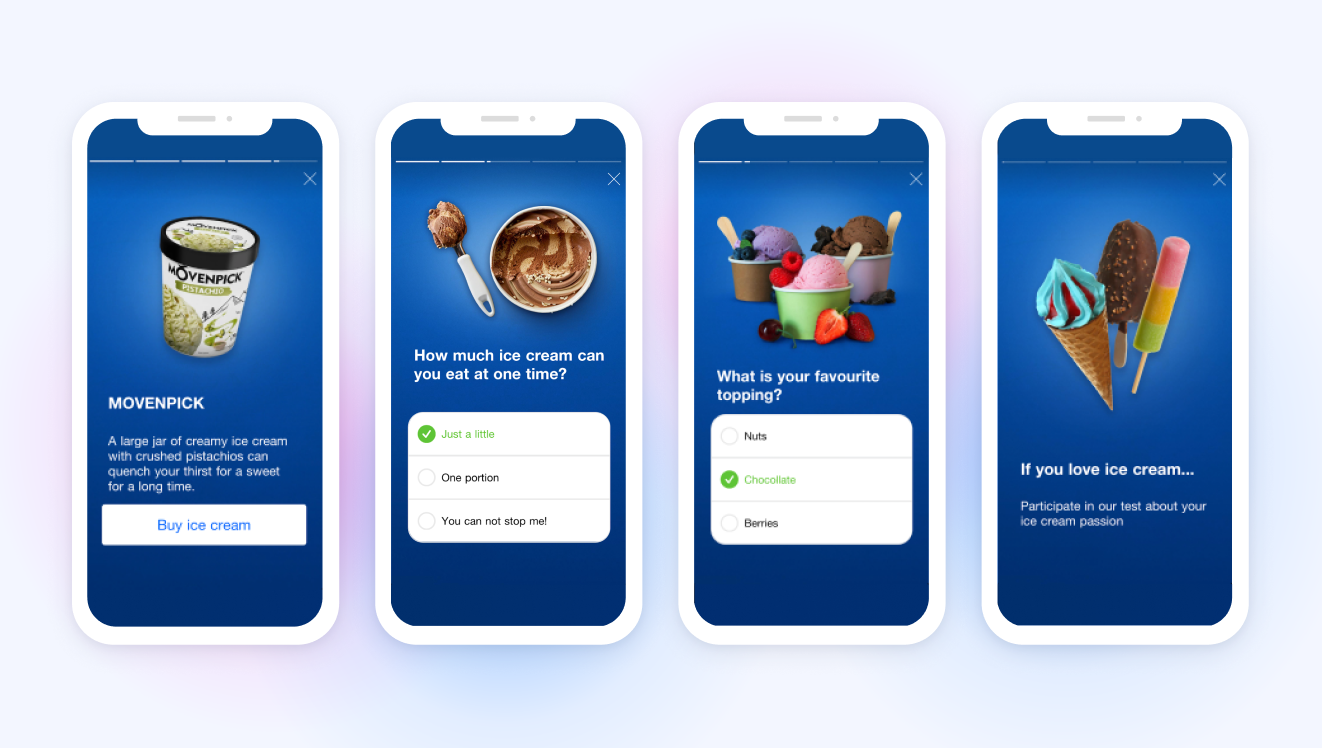 Mobile app Stories boost user engagement by providing an interactive and gamified experience in the METRO mobile app. Stories captivate users' attention and increase their stickiness to the app by leveraging various interactive mechanics such as quizzes, polls, and feedback features. This long-term retention strategy ensures that users continually return to the app to explore new Stories and engage with the content. The availability of interactivity with the mobile app made METRO AG's app stand out from the competition, promoting user loyalty and strengthening the app's positioning in the market.
Solution #3: Stories Help To Build Better Expertise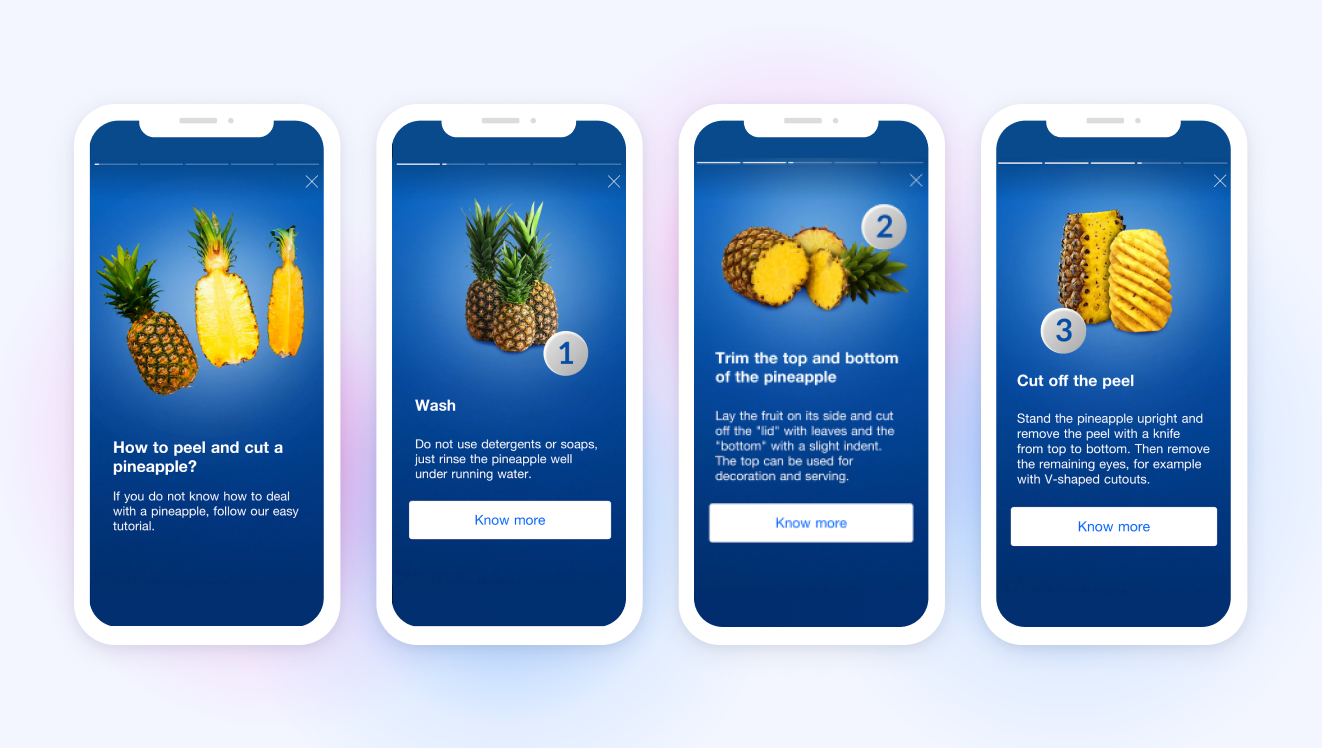 Mobile app Stories allow METRO AG to establish itself as an expert in the food industry. By featuring a wide range of recipes, cooking tips, and life hacks, the company positioned itself as a trusted source of culinary and food knowledge. Users associate the app with expertise and rely on it for valuable information, enhancing their perception of METRO AG as a confident and knowledgeable partner in their culinary journeys. This expertise not only increases user trust but also extends the customer's lifetime value (LTV) by creating a deeper connection and fostering long-term engagement with the app.
Overall the implementation of the mobile app Stories revolutionized METRO AG's approach to user engagement and performance. The incremental revenue, interactive experiences, and emphasis on expertise transformed the app into a compelling and unique platform. Through Stories, METRO AG successfully improved conversion rates, increased customer retention, built trust, and solidified its position as a leader in the food are.
 
Business Results

As a result of the Stories integration project, METRO has seen a positive increase in its mobile metrics and successfully gained a new and competitive mobile omnichannel approach. Customers were viewing the Stories and actively interacting with them - tagging, sharing with friends, and leaving positive feedback.
After the Stories have been successfully integrated, 52% of users have actively started to open them and thus, spending more time inside the mobile app. This was an impressive achievement, demonstrating the effectiveness of the Stories in capturing users' interest and prompting them to take action.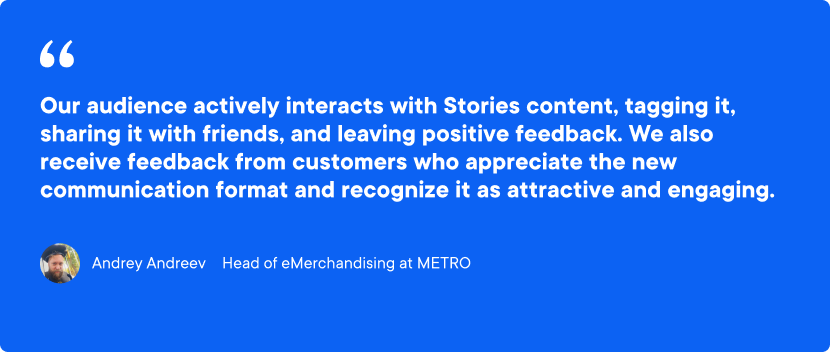 Furthermore, the Metro mobile app has seen a considerable increase in the conversion rate of up to 37%. Thus, more and more customers were willing to add specific or new products to their carts. In addition, this interactive content has also improved the communication with their audience, making it more effective and leading to a stronger connection between customers and the brand.
There was also a notable uplift in the duration of mobile app sessions within the METRO app. On average, the course of a single mobile app session increased by 34 seconds for those users who regularly engage with Stories. That signifies that users were highly engaged and spending more time interacting with the app, exploring the Stories, and discovering new products and offers.
 
Want to implement Stories and achieve quick business results like METRO AG? Book a meeting today!