Deezer, is a French online music streaming service, with a presence in more than 180 countries, reflecting a commitment to connecting music fans and artists alike. With over two million subscribers, Deezer's digital company is significant, demonstrating the importance of its mobile app in engaging audiences worldwide. The mobile app, serving as a central platform for music streaming and subscription sales, plays a vital role in Deezer's business model. In a highly competitive world of music streaming, maintaining user engagement through the mobile app becomes paramount for sustaining growth and fostering brand loyalty.
 
Despite Deezer's strong digital presence, several challenges impacted the mobile app's performance. Since major music streaming platforms are similar in audio content' it's vital to provide beyond-the-core user experience including interactivity and gamification. Dynamic personalization of the content for the user presents another challenge, with the constant need to help customers discover music they mostly prefer to listen to. That's why many global players put their eyes on captivating formats and mechanics from social media that could be adapted for a better experience in mobile app navigation and engagement. 
Riding on the Music Wave
Recognizing the desire to make user behaviors more sticky, Deezer embarked on a collaboration with InAppStory, a platform known for its cutting-edge solutions for integrating mobile app Stories. This partnership marked a significant step toward Deezer's goal of elevating user engagement and providing more personalized, interactive journeys.
The implementation phase was initiated with careful planning and coordination between Deezer and InAppStory's teams. Together, they identified the key areas where Stories could be integrated into the app, pinpointing where the challenges lay and where improvement could be made.
Nowadays, Deezer's content team actively publishes Stories through InAppStory with different use cases. Here are some of the selected examples for implementing the Stories:
1. Music Discovery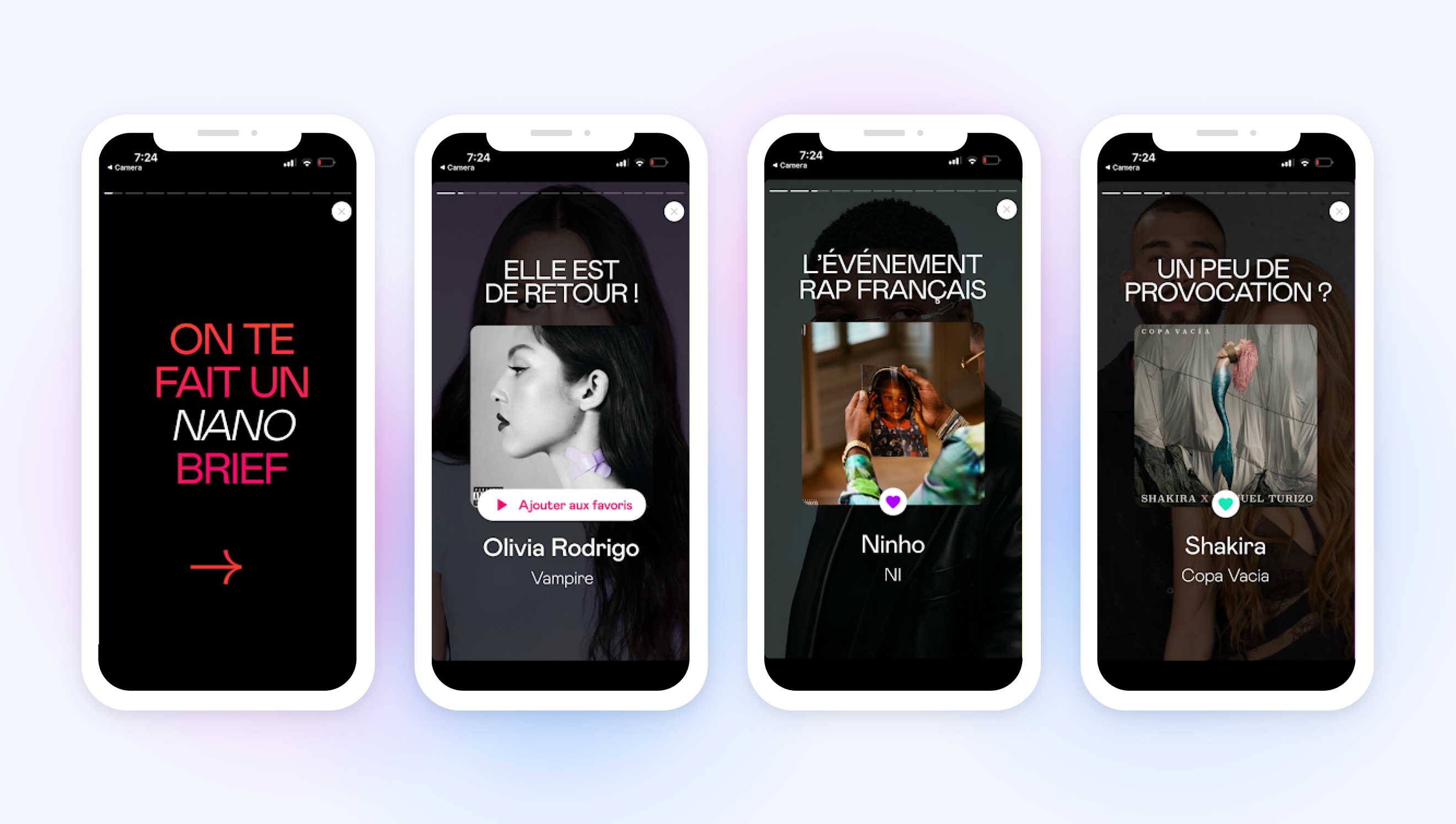 Deezer's implementation of Stories has revitalized the way users discover new music. By highlighting thematic collections, editor's picks, artist interviews, and trends through an engaging story format, users can easily explore new playlists. This feature showcases carefully curated content, allowing music enthusiasts to find fresh tunes that align with their tastes, bridging the gap between content discovery and listening experience.
2. Interactive Stories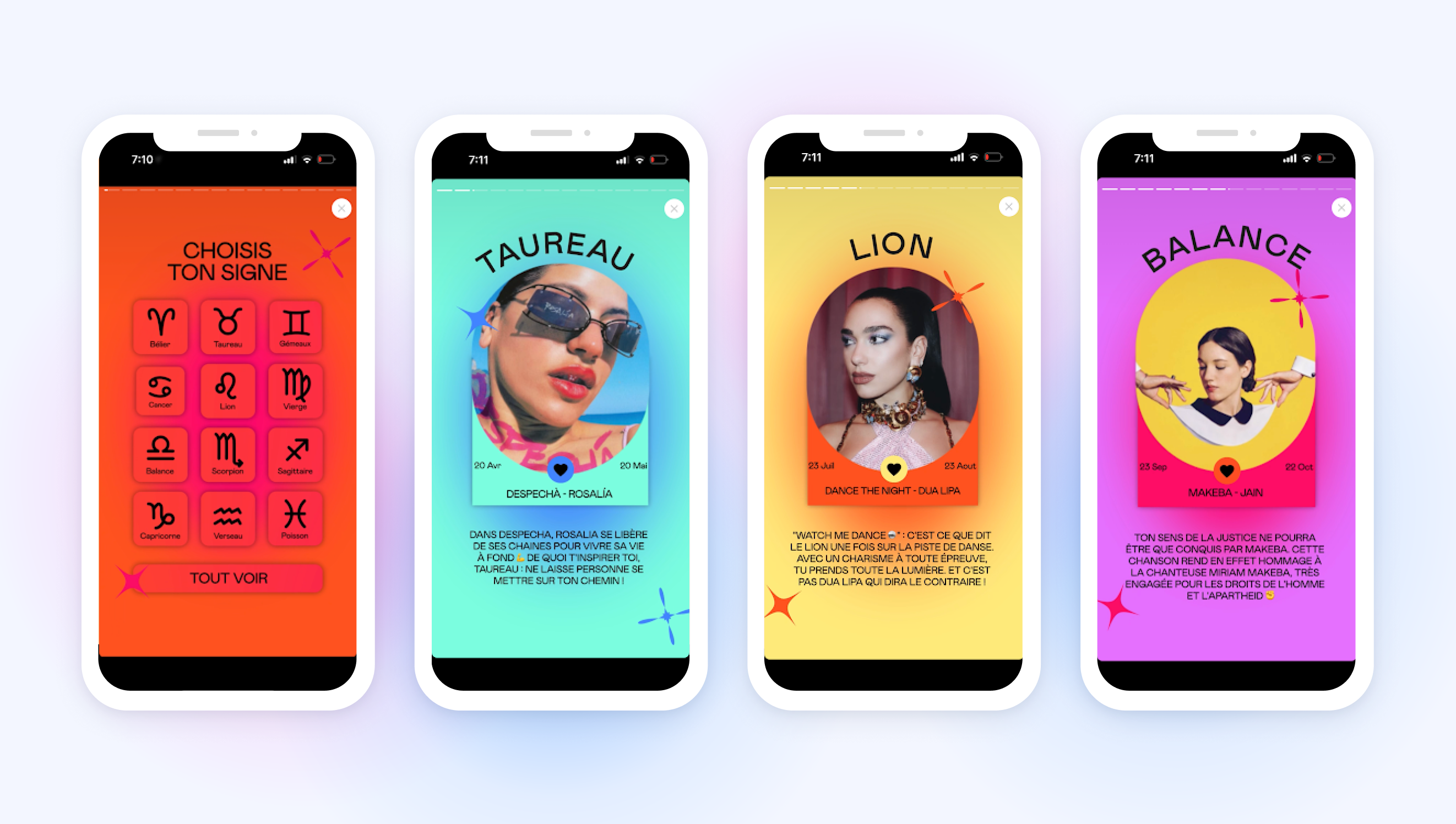 The introduction of interactive stories has added a new dimension to the Deezer app and made it more engaging but it has also created opportunities for cross-promotion with other projects. 
3. Product Features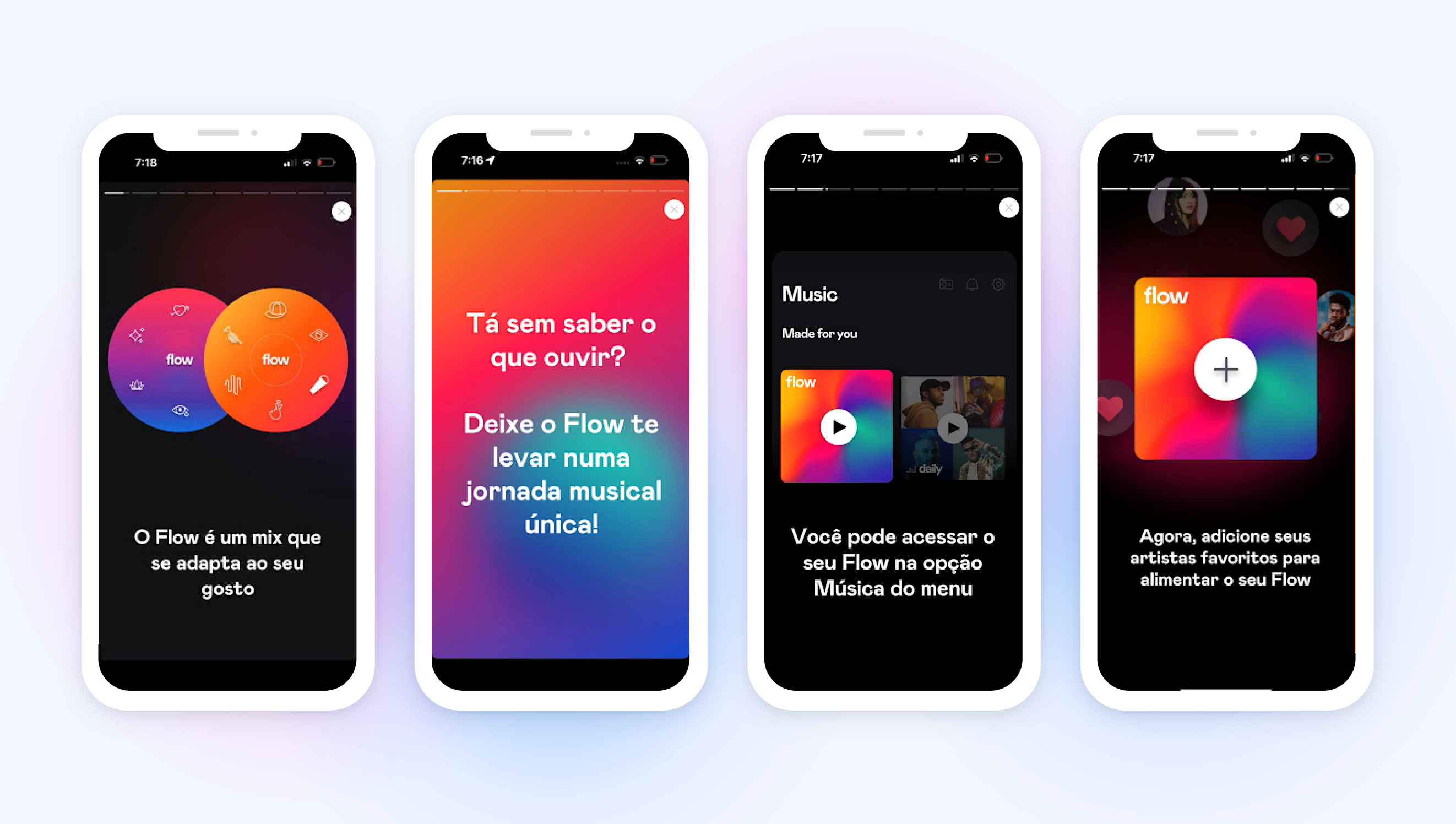 Understanding the mobile app's functionalities is crucial for a rewarding user experience. Deezer has addressed this by offering a comprehensive overview of the app's new features through Stories. This in-app guide assists users in navigating the app's latest additions, encouraging deeper engagement, and more frequent use, and ensuring that users can make the most of the ever-evolving platform. This not only educates the users but also promotes feature adoption, playing a pivotal role in user retention.
4. Advent Calendar / Influence Marketing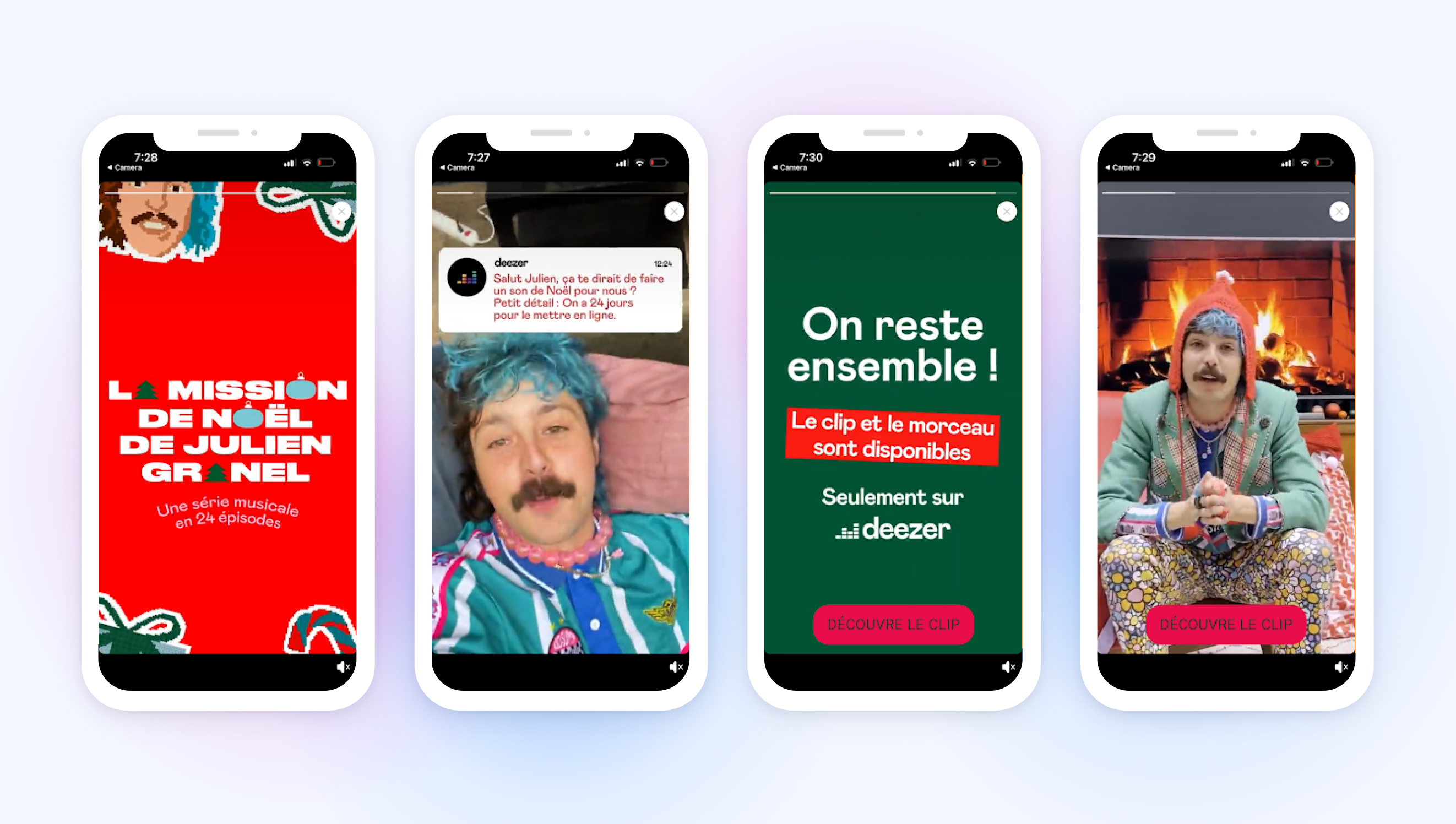 In an innovative holiday campaign, Deezer launched an advent calendar through Stories, featuring a collaboration with a well-known French artist, Julien Granel. This unique blend of seasonal content and celebrity endorsement created a buzz, adding an engaging touch to holiday promotions. Whether it's unveiling daily surprises in an advent calendar or leveraging influencer marketing, this strategy has proven to amplify brand awareness and foster community engagement during a key sales period.
 
These strategic implementations were meticulously designed to encourage users to interact more with the app, fostering a deeper connection with the Deezer brand, and addressing the core challenges that were previously hampering the success of their mobile application. The focus on personalization, engagement, and dynamic content promotion promised to create a more compelling and responsive user experience, aligning Deezer's app more closely with the expectations of a digitally savvy audience.
It's worth mentioning that the possibilities for Stories are endless. Deezer also plans to use them for summarizing the season and even the entire year, marking one of the most essential marketing campaigns for the brand.
Business Results

Building upon the groundbreaking partnership between Deezer and InAppStory, the integration of mobile app Stories into Deezer's music streaming platform bore fruit, yielding significant enhancements in user engagement and acting as a driving force behind the mobile app's growth.
Engagement Metrics: Since the Stories feature was rolled out, there have been more than one million user interactions with them, emphasizing the robust interest and genuine participation from the Deezer community.
Session Durations: The introduction of Stories saw an uplift in the time users spent on the app. On average, users spent about 40 seconds viewing each Story. Notably, a promotional Story featuring Ed Sheeran stood out, captivating users for more than 6 minutes per viewing.
Repetitive Engagement: The effectiveness of the Stories tool can also be gauged from the fact that users, on average, viewed 3.5 Stories each month, underscoring the feature's potency in maintaining user engagement over time.