Mobile Marketing
5 snackable content types attractive to mobile users
It's natural to assume that snackable material is intrinsically simpler to create than long-form content, and in some ways, it is. However, creating snackable material presents a unique set of challenges and techniques. It's a new game with distinct rules, and the rewards can be more immediate and far-reaching than those associated with long-form work.
 
The purpose of snackable content is to provide instant amusement or enrichment, to encourage social sharing, and to generate new leads as a result. And certain types of content media make this procedure extremely easy.
Here are five of the simplest, most plain snackable content types that, when done correctly, can result in meaningful, profitable effects.
What is snackable content?
Snackable content is content that is concise, easily digested, and visually interesting. It is intended to convey the message fast and is frequently meant to be consumed on a mobile device. Snackable content can take the shape of photographs, infographics, memes, gifs, or short movies, but it is always brief, digestible, and quickly shared.
5 snackable content examples attractive to users
Infographics
As a format, the infographic is one of the most effective ways to convey relevant, important knowledge without sacrificing snackability. It's enjoyable, engaging, and useful - and has a rather diverse range of uses. For instance, they can be used as structured "how-to" manuals for various procedures, as demonstrated by this HubSpot example.
 
However, infographics do not need to be hierarchical or sequential in nature. Additionally, they can be utilized to communicate general, fascinating facts or data. Infographics are more approachable and lively than written text — and these are the characteristics that define snackable information. They're intended to be straightforward and uncomplicated while still being enlightening. Though certain material will always be too serious or technical to summarize and place against lovely imagery, infographics may be the best method to present useful information in a snackable style.
GIFs
GIFs can be thought of as animated photos. The GIF format traces all the way back to the early days of the Internet in 1987, when ISP CompuServe created the "graphics interchange format"—basically a brief movie or moving animation compressed into a very small file size. This 1980s craze has resurfaced to take over the internet. The GIF has grown ubiquitous due to its capacity to capture an audience's attention and communicate a great deal in a matter of seconds.
For instance, Amazon's animated GIF for their Black Friday offer captures the viewer's attention with its dancing flames. Any video may be converted to a GIF using a variety of technologies, like Giphy.
Short video content or simply Stories
One of the most trending and rather attractive methods how you can actively engage with your target audience is by utilizing the Stories features or incorporating the short video format. It's practically the same thing when it comes to the foundation level.
Mobile app Stories is a great way to include concise, perceived, and valuable information no matter what kind of topic you are talking about. For example, if you were to make a simple quiz that should look visually appealing and at the same time an informal walkthrough guide, then in-app Stories can act as one. Below is one of the great examples from our clients, where we have incorporated a simple quiz that was capable of collecting the feedback from a separate implemented feature.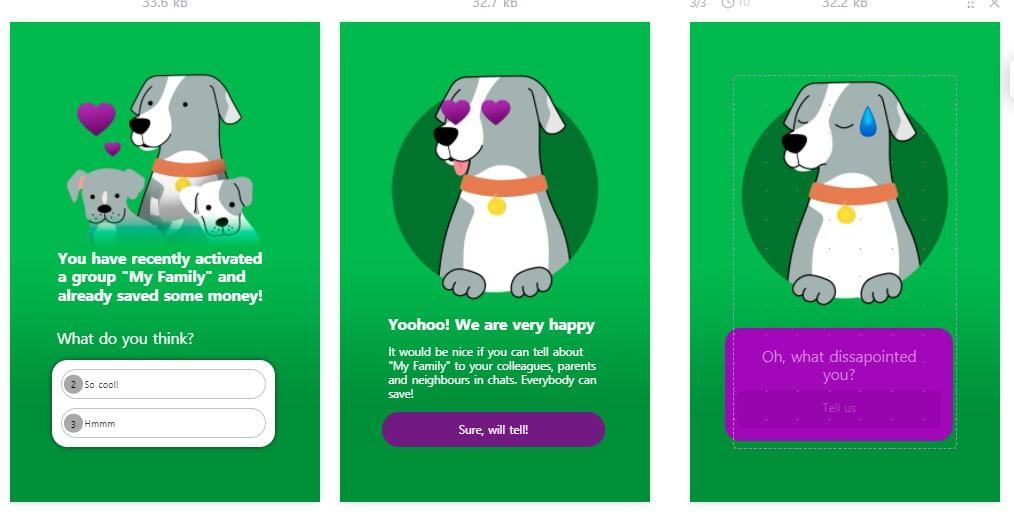 Apart from being great snackable content, mobile app stories have proven to be a valuable asset in the following areas:
User education

Lifestyle demonstration

Sales driving factor

A major source of entertainment

Effective feedback-gathering tool
Already got interested in how you can use it? Go ahead and drop us a message for a free 30-day trial!
Graphical assets or images
While photos alone are frequently effective at engaging audiences, images that incorporate text and interactive elements can be even more so. For example, you could share an image of a product along with a brief description and a link to a little video about the product. The user can then tap on the CTA to learn more.
Additionally, image graphics may provide brief information that assists clients during the want-to-know or want-to-do phase. An enticing image can capture and hold readers' attention, while the text gives the information they seek in an easily accessible way.
Quotes
Quotes can simply serve to support your brand's voice or visual identity, depending on the image you employ. Another method to incorporate quotes is to highlight quotations from industry experts, influencers (a wonderful way to capture their attention), or your own company's workers or CEO. Utilize quotes from event speakers to advertise your event or their specific sessions. Quotes can also be extracted from longer pieces of information, such as articles, white papers, or blog posts, and used to direct readers to the longer pieces.
 
There are numerous free phone apps and web tools available to assist you in creating quote visuals, including Canva, Pablo by Buffer, and Phonto. Try a few and decide which one is your favorite.
Memes
Here is one of the most popular UGC formats — or, at the very least, the one that everyone enjoys creating the most. As a concept, memes wonderfully encapsulate snackable material. They're instantaneous, purpose-built to be entertaining, and readily skimmed through and shared.
Creating memes is a delicate art form – even more so for something as easy as a meme. If you're going to use memes to aid in your marketing efforts, you need to exercise greater caution than you may believe. Corporations have been known to co-opt various meme formats and destroy them. Freeview, the British television provider, even created a meme about brands destroying memes:
 
That said, if you can constantly create amusing memes in a respectful manner — without offending or alienating the members of your audience who are truly like memes — you'll end up with an abundance of delightfully snackable content.
Tips on how you can make your own snackable content
Promote Upcoming Campaigns or Publications
Using snackable material to promote larger upcoming campaigns or releases is an excellent use of snackable content. Give your viewers a sneak peek at what's coming. For instance, if you're launching a new menu, highlight one future dish (or a close-up detailed photo) to pique your audience's interest in what's cooking in the kitchen. Once the menu is launched, share images of select items and invite folks to view the entire menu via your messaging.
Lifestyle
Finally, and arguably the most straightforward type of snackable content to create and share, is lifestyle material. Consider your buyer persona or brand persona. Everything from your target consumer's age to their hobbies and preferred hangout spots. Your lifestyle content helps bring your customer persona to life by highlighting interests outside of your product or brand. As with any relationship, determine your target consumer's overall interests or personality attributes and generate material that appeals to that aspect of them. This assists you in developing a stronger connection with those you are attempting to target. You can either design your own images or use stock photos.
Final Thoughts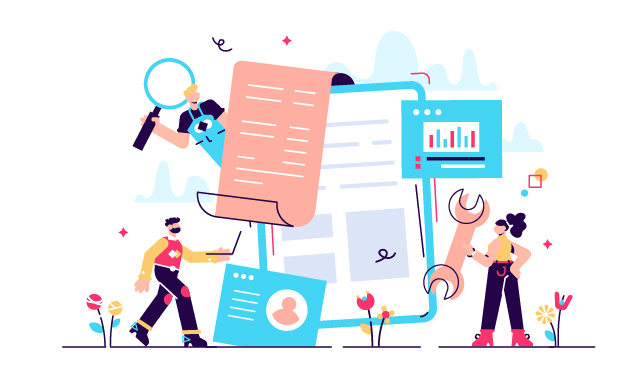 You may continually maintain user engagement and loyalty by utilizing snackable content such as app Stories, image graphics, quote graphics, and GIFs. The trick is to determine which types of content to create and integrate based on your audience's demands and the overall experience of your app.