Content
The importance of visual content for your business [2021 guide]
Visual content is crucial when it comes to your communication with a client. An effective marketing strategy these days involves captivating business images, infographics, etc. From social media platforms like Instagram to your website and blog, this situation applies to all forms of communication with your clients.
In this article, we will analyze why images are a brilliant way to attract more people to your large or small business and increase your conversion rates. Then, we will analyze the main types of visual content and the best digital marketing tools. Also we will summarize all the benefits of quality content and explain how to combine business images with text. 
Visual Content and Brand Promotion: Key Statistics 
According to a recent statistic, many large companies spend around $1.75 million per year on content marketing. This statistic shows how important content is to increase your customers and interact with your audience. Online marketing is endless, which means you have a large number of options. From creative contests and events to quality blogs and promotions, there are many ways to strengthen your marketing strategy. 
 
Whether you want to focus on creating high-quality content, promotions, or something else, visual content is a necessity. Such communication with an audience is much more effective for many reasons. 
 
To be more specific, according to a study by Transilvania University from Brasov, visuals are a brilliant way to: 
Directly evoke the desired emotions.

Help your audience to easily understand your product/service. 

Appeal to more people. Visuals are generally shorter than written content (more than 95% prefer short content)

Help your audience remember your content.
Due to the fact that lack of attention is on the rise, visual content is a great way to get noticed. The next chapter will help you identify all the different approaches to visual content.
What are the Main Types of Visual Content?
For your brand marketing to be successful, you should choose a combination of numerous visual content forms. People tend to forget what they read. This is why you can stand out by creating captivating visuals. There are two main types of visual content that you can utilize for your company: images and videos.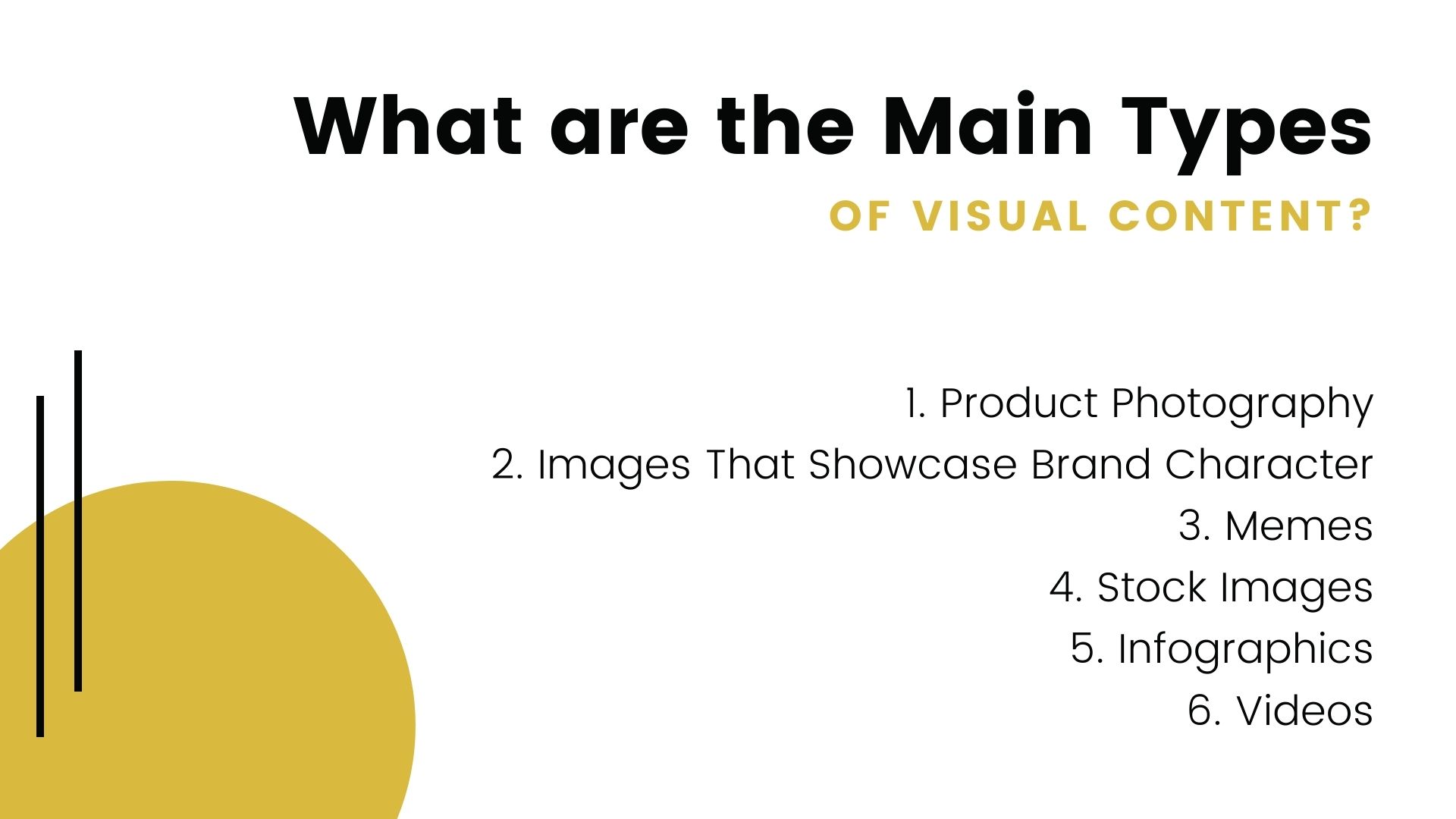 Images
As most of you imagine, pictures are the most common and efficient way to attract and engage your audience. In fact, many types of imagery can boost your brand awareness. 
Product Photography -

This is a self-explanatory type of visuals. Product photography is a very efficient marketing strategy, especially for your social media and website. Your photos need to be high-res and engaging. Choosing a relevant background and context is a smart thing to do.  

Images That Showcase Brand Character -

Images are also a great way to stand out from the competition. For example, you can create unique visual content from your local community. Likewise, it is important to add a personal touch to your business. This is a brilliant way to interact with your clients and draw attention.  

Memes -

A meme is an imitation type of visual content that shares an idea, behavior, or style. Creating memes has become extremely popular amongst businesses. By sharing a relevant, funny meme, you improve the interaction with your clients.   

Stock Images -

Although stock images aren't personalized, in many cases, they are an efficient marketing strategy. This is a more affordable alternative to the custom photoshoot. Most businesses choose a combination of stock images with text and branding elements (logo, fonts, colors). 

Infographics -

Infographics are another type of imagery you can use to communicate with your audience. As mentioned earlier, visuals help people understand information more quickly. This is why infographics are a smart way to share business-relevant information and statistics.
Videos
Videos are the second main type of visual content. Just like images, videos are an efficient way to trigger certain emotions quickly. It is important to understand that videos nowadays are much more than the traditional movie-like content.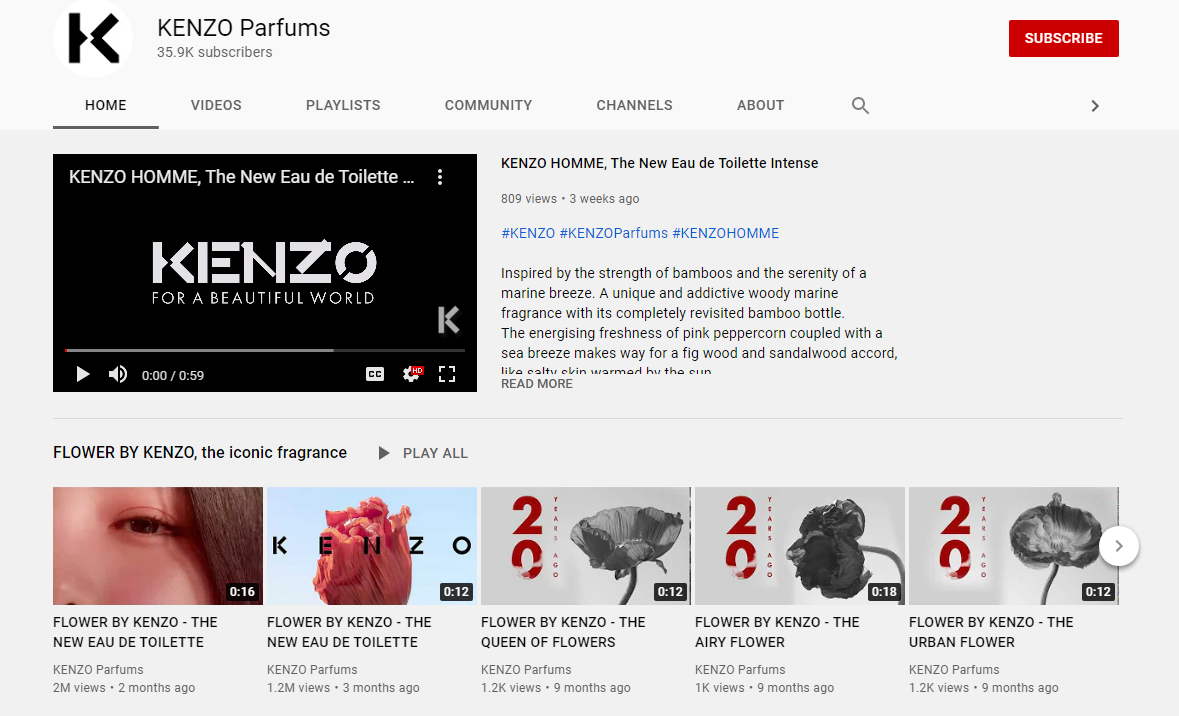 There are several video types you can utilize to promote your products/services like:
Marketing videos — the most common  type of brand promotional videos: adverts, brand presentations, product demos, etc.

Gifs – looping images packed in one video

TikTok videos – short eye-catching videos

Social media videos – short promotional videos like Instagram Stories
What are the Benefits of Using Visual Content?
Now that we have identified the main types of visual content, it is time to analyze how visuals can help your business. As mentioned earlier, there are numerous reasons why you should use images and videos as marketing tools. There are certain benefits that backup this opinion: 
Visuals give your brand a professional identity: Images and videos are an efficient way for your business to look more professional and serious. You can produce videos showing your experience and knowledge in your niche. If your infographics, forecasts or instructions are right on point, people will come back to your site and treat it as a trustworthy source.
Visuals improve engagement:

This is one of the most important advantages. Engagement is crucial in digital marketing. Images and videos are more engaging than written text, that's why people spend more time on pages with visuals. Videos also may encourage visitors to dig deeper on your site, increasing the average time they spend there. 

Visual content works great with SEO:

Although this isn't commonly known, visuals are great for Search Engine Optimization. When uploading a visual, all you have to do is add keywords into alt tags for images and optimize titles and descriptions for videos.  Likewise, visuals can act as a brilliant SEO boost for your website, blog, etc.  

 
Still, for you to take advantage of these benefits, you need to create quality visual content. In the next chapter, we will analyze how to create top-tier visual content.
How to Create Professional Visual Content 
For you to create quality images and videos, you first have to define your marketing goals. It is crucial to keep in mind that visuals are nothing but a means to achieving your business priorities. For this reason, you should always think of the following parameters: 
Your visual content should augment your brand identity: It is important for the images or videos you create to include your brand elements. Apart from your company logo, it would help if you also focused on brand colors, fonts, graphics, etc. Those are the main elements that will help you stand out.  
Your visual content should make your brand memorable: Your visual content should be clear, accurate, and relevant to your business. This is crucial for your brand to be memorable. Likewise, it would be best if you created positive visuals that stay away from controversial topics. 
You should combine different visuals to increase engagement: It is important to keep in mind that a combo of different visuals is more effective. When it comes to engagement, people tend to get bored. To avoid that, you can engage via different visuals: try to combine images, text, videos, and infographics. 

 
Now that we have analyzed all the tips you should keep in mind, let's explore some important tools that will help you create professional visuals. Built-in editors on Instagram and TikTok are good, but there are options with more features and interesting tools: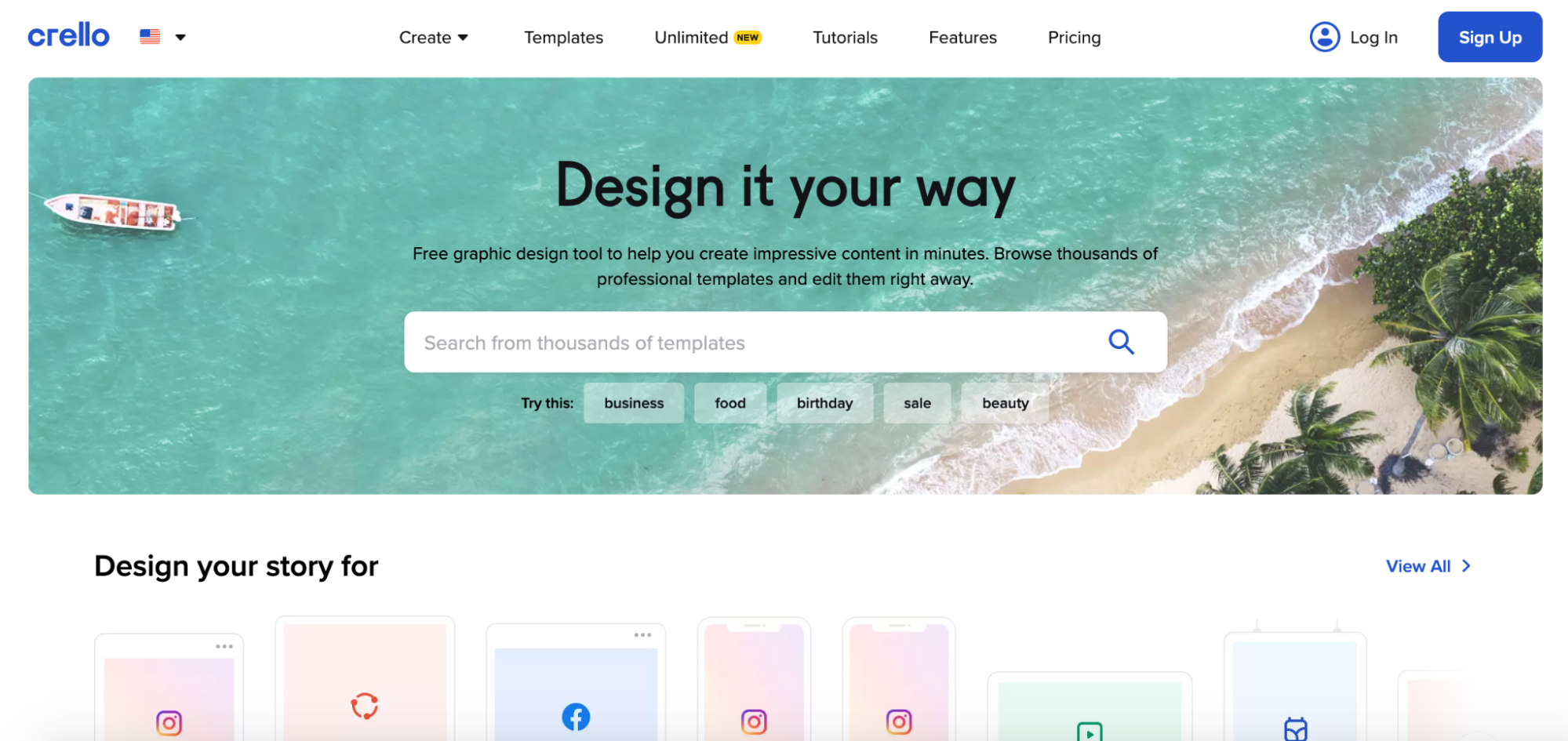 Combining Visual Content with Quality Text
As we already mentioned, you should always combine visual content with quality text. Especially when it comes to content for your website or blog, you should always focus on quality content writing. Although content writing isn't as powerful as visuals, it is still a great way to draw traffic to your business naturally. 
For this reason, you should always focus on creating high-quality content to frame your images and videos. There is simply no better way than this combination if you want to improve your user flow and increase customer engagement. This will ultimately improve your conversion rates. 
The Bottom Line
This article explored why visual content is crucial for your business. As one of the most powerful marketing strategies, images and videos can help you draw attention. 
There are many types of visual content you can utilize product photographs, memes, infographics, gifs, product videos, etc. However, since the industry is changing, it is important to use a combination of those visuals. Apart from that, images and videos should always be accompanied by quality text. 
By using all the practices and tools provided above, you will be able to create professional visual content for your business.