Content
Great content marketing campaigns that changed the business
The popularity of content marketing among brands is growing for many reasons: the failure of traditional advertising (hello, "banner blindness") along with the fact that 47% of Internet users have ad blockers, the need to reach a new audience, and the request for native and user-friendly material presentation.

Statistics confirm both the demand for this trend and its effectiveness. For example, large companies spend on average $1.75 million a year on content marketing. In the B2B segment, 93% of players use content marketing and, on average, spend about 40% of the marketing budget on it. If we talk about blogging, one of the most popular approaches in this direction, then the return on investment (ROI) is estimated here at x13. In general, most market players have no doubts that this is an important direction.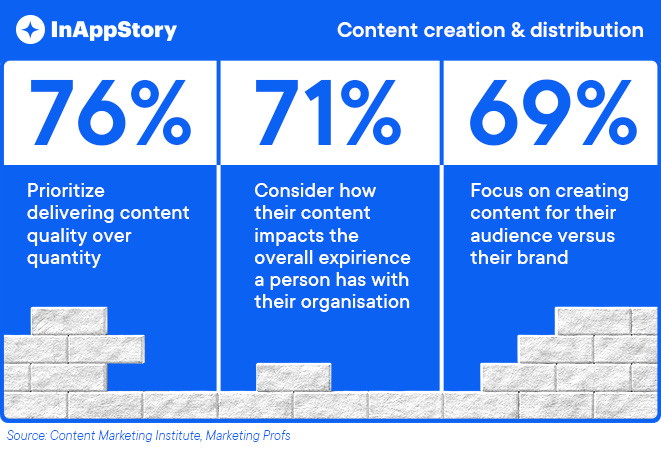 There are more than enough approaches to content policy that a company can use to create super-effective cases, from blogging to launching a podcast, and from using storytelling and game mechanics in marketing campaigns to encourage users to create their own content. The central point here is that the implementation must take place in a digital space.

There are many examples of brands launching amazingly effective content-driven marketing campaigns. They've affected the profit of the business, changed its perception and even the economy. We will demonstrate especially successful strategies in which expenses were small (as opposed to the effect). And how your business can use a similar approach.
1. GoPro: launch a creative competition for hundreds of thousands of people
The manufacturer of action cameras, which are mostly used in extreme sports, came up with a great way to promote their brand through content - by settıng up a competition.

The conditions and situations in which GoPro cameras are most commonly used tend to be very suitable for capturing video effectively. The company took advantage of this and suggested the users of its technology upload videos they have filmed with a specific hashtag, in other words - to create content (user-generated content, UGC). And ın order to spur interest, the prize fund of the competition was assigned to one million dollars. The results were soon to follow. 
2019 Million Dollar challenge winners
In 2020, 29.200 videos were sent to the next Million Dollar challenge. More than enough for an effıcıent (and eye catchıng!) content campaign. And, of course, to fill your YouTube channel with interesting videos. This led to the growth of subscribers on the channel to 10+ million, and also allowed the celebration of breaking the mark of 2 billion views in 2020 as well.

This approach has many significant advantages - from maximizing savings on content creation to generating a huge number of various creative ideas. UGC also pushes people to buy the company's products: 79% of respondents confirmed that such content strongly influences their decision to purchase a product.

Conclusion: GoPro is worth learning about as a strategy for establishing relationships with your customers - how to make sure that each of them can be a brand ambassador and advertising agent. The company succeeded in this due to a simple (but large-scale) demonstration of one of the features of the product.
2. TED: become world famous by posting recordings of the events
Founded in 1984, the company specializes in conducting science-pop conferences around the world. At these conferences, experts present their ideas which have already changed the world and other people, or promised to do so in the near future. TED was a relatively well-known conference, but the real leap in popularity for the brand came after video content from their events began to be posted online.

The first videos were posted on the company's website in June 2006, and by September they had their first million views. In 2009, the total number of video views on TED.com surpassed 100 million, and in 2012, the company celebrated its one billion views. Today, the YouTube TED channel has 19.3 million subscribers, which of course says a lot about its brand awareness.

TED video content has proven to be such an effective promotion tool in several ways. Firstly, the company focused on the quality of the content: initially, only the best speakers were invited to the TED conference, special attention was paid to storytelling - how speakers should present their reports, how to work with the audience. High standards helped attract experts like Elon Musk and Tim Urban to the TED conference.
The second part of TED's success is being principled. The company does not engage in market research or SEO optimization, their priority is to find and create meaningful content that will appeal to people regardless of country of residence, age or religion.

The third part of TED's success is embracing the fresh trend of free video publishing. The company created content that was really valuable, useful for people and made it publicly available, and this could not help but affect the loyalty to it.

Conclusion: Look for and involve in the creation of materials the best experts in your niche, whoever is infatuated or fired up by this idea. If the speaker is not ready to collaborate with you on a regular basis, record a podcast with him or interview him on a topic that interests him. Or, suggest preparing a series of original expert tips that will form the basis of your concept mailing list. And be as open as possible to new ideas, it will be appreciated.

3. Investopedia: create a clear blog on a complex topic
If you enter a question concerning the investments in English into Google, the links to articles from the Investopedia blog are likely to be the first in the search results. The content strategy of the analytics, consulting, educational and other financial services company receives over 33 million views monthly. This gigantic figure is comparable to that of the world's leading media.

Investopedia was able to achieve blog influence due to two main components. First, the company creates content with a perfectly designed structure that clearly fits popular search engines results. Secondly, the blog talks about complex things (investments, finance, and related topics) in a simple and accessible way, and this creates great value for the audience.

In the structure of its texts, Investopedia uses a model in which central content elements are linked by numerous cross-links with less significant publications, and vice versa. So, in the broad topic "Capital Gains" there are almost a dozen references to other publications that talk about it in more detail.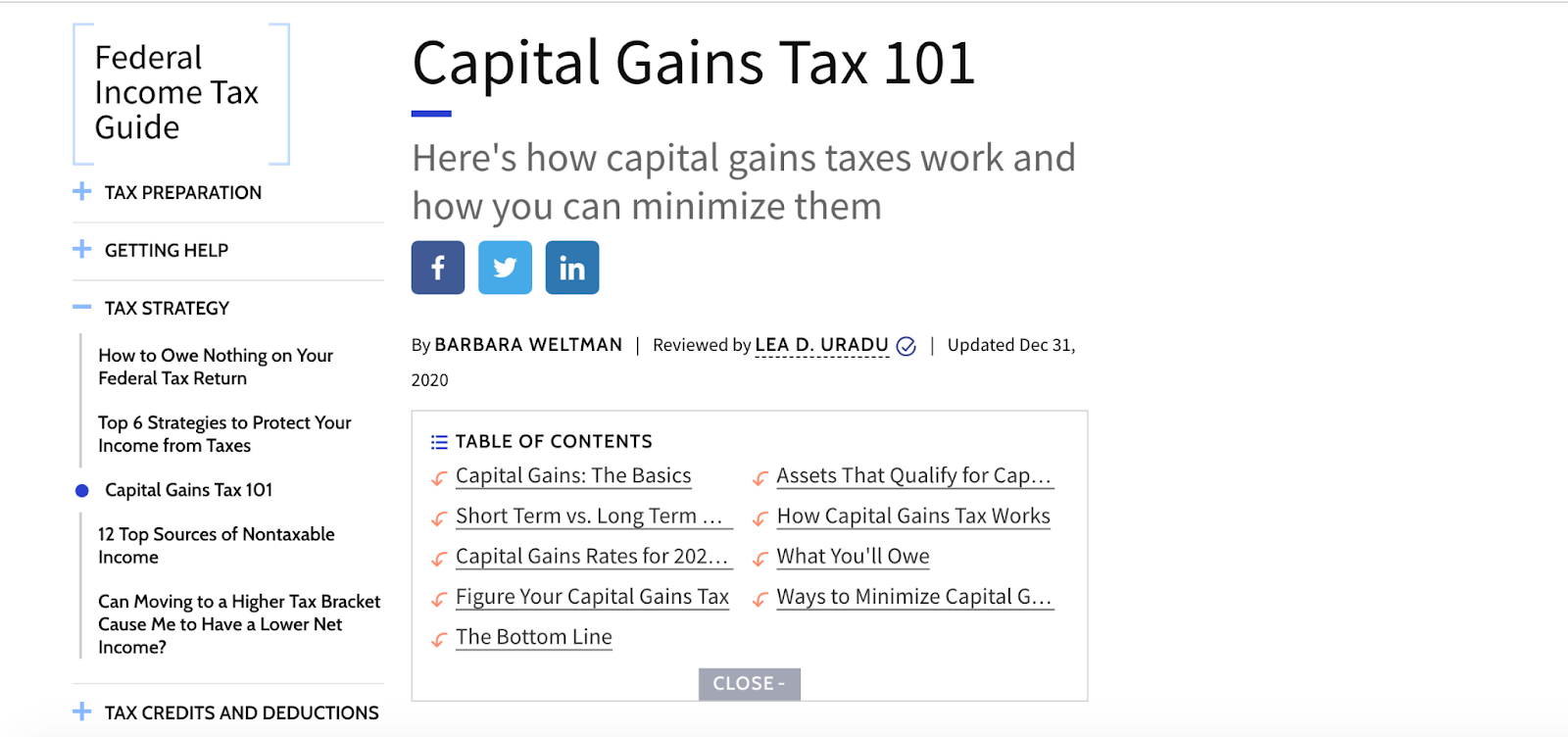 Source: Investopedia
Numerous links in the text significantly improve the user experience due to the readability: if necessary, you can always click on the linked term and read more on the topic. In addition, Google indexes sites whose internal structure is arranged in this way much better.

At the end of the publications, Investopedia succinctly gives conclusions that help the reader to consolidate the content of the publication, as well as hypothetical examples of how the knowledge gained in this article can be applied. In addition, their materials are literally bursting with numerous graphs, tables and pictures, which also simplify the perception of information.

As a result, this approach helps the company earn $70 million per month from traffic without paying Google a cent.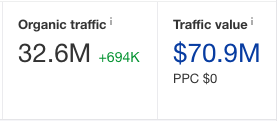 Source: Investopedia
Conclusion: A fundamental approach to building content structure - both in individual publications and in general - is paying off. It is also important to speak with your readers in down-to-earth language, especially if your topic is not so simple.
 
4. General Electric: attract influencers to promote without spending anything on it
When talking about successful campaigns with Instagram influencers, it's unlikely that anyone would think of General Electric first. But in vain. In 2013, instead of creating boring content about their vacuum cleaners, the brand decided to get creative with a promotion.

GE invited prominent Instagram influencers to visit the company's industrial facilities and share it on social media. Of course, bloggers gladly went to colorful production facilities where, for example, turbines for aircraft are made. The campaign was named #GEInstaWalk, and six bloggers were sent on each tour. The stake was on the fact that photographs from industrial facilities would look unusual and spectacular, and it paid off.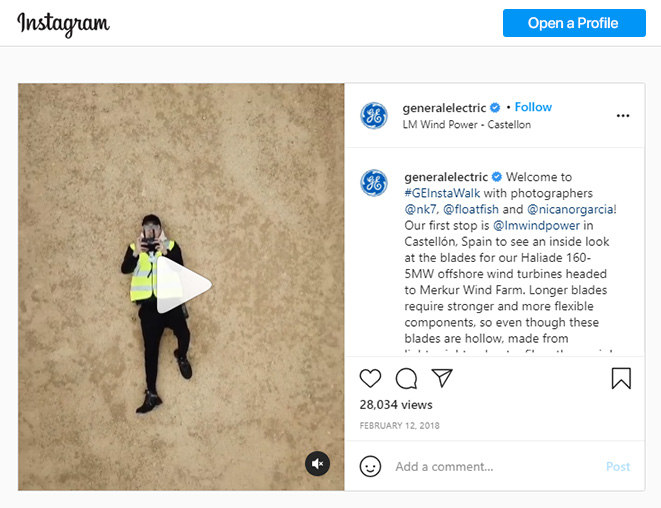 The result is an independent exclusive look at the technical equipment manufacturer General Electric. The company reached about 3 million people for each such tour without special expenses, and the total result was 8 million views of the GE page on Instagram and 3,000 new subscribers. Undoubtedly more than not bad for a technical equipment manufacturer.

Conclusion: Influencer marketing can be very effective and not necessarily costly when approached with imagination. Think about how your company can be attractive to users, and how can it be looked at from an unusual angle. Remember that ordinary users can also become your brand ambassadors if you figure out how to get them excited about your products on social media. And this is also a very effective strategy: 84% of people trust recommendations on social media as much as they do in real life.
5. Hootsuite: use the hottest topic 
Today's largest social media content management platform a few years ago showed how you can ride a popular trend and use it to engage your audience. The most obvious example in this sense is the creation of a viral video in 2014, in which the mechanics of social networks are disguised as the then popular TV series "Game of Thrones". The video has collected 20-30 times more views than an ordinary video on the channel.
A Game of Social Thrones - Hootsuite promo video with 1.3 million views and 24 thousand likes
To release such an animation, you don't need staggering budgets - it is enough to attract a few smart performers, which means that the company's approach can be used by almost any business. The scheme for creating a video is quite simple: find a topic that is relevant today, for example, you can use Google Trends. Think about how you can connect it to your business, write a script, set a deadline and move on to production. When the video is ready, all that remains is to think about effective distribution.

In April 2021, Hootsuite has 43.6 thousand subscribers on YouTube. For a company that is not directly involved in content creation, this is a pretty good indicator.

Conclusion: There are plenty of opportunities around you to make content about your company contagiously great and interesting, and attract new audiences. Think about who you would like to reach, what topics these people are interested in, and start turning this information into creativity. And don't forget to add a little irony, it's always relevant.
6. Spotify: personalize everything
The company is known for its content customization. Spotify has personalized everything: emails, playlists, and even a website that has personal playlists for each user. And in 2017, the brand went further and launched the Wrapped campaign, in which users received emails indicating the tracks that a person listened to most often over the past year, other information about musical preferences, as well as the overall musical results for the year.

Following the success of this campaign, Spotify began to launch the Wrapped campaign annually. Starting in 2019, the musical results of the year were presented in the form of a story that could be reposted on social networks or sent to a friend.
It's hard to call the Wrapped campaign unsuccessful, judge for yourself: after the release of the next campaign in December 2020, app downloads grew by 21%. The number of references to the service both by ordinary users and by music stars of various scales cannot be counted even approximately.
Conclusion
If you can personalize your content, do it. Users will appreciate the individual approach, and perhaps they will talk about it on social media. This greatly increases engagement, and what could be more important for a digital business?
 
Determining the right content marketing strategy is the key to your business's success in many ways. In order to do this, there are three things to think about: what challenges your users have, how you can gain benefits for them, and how to create awesome content that will appeal to so many people. This will help you understand in which direction you need to move in order to achieve your goals.
Perhaps along the way, you should consider integrating the Stories section into your app or website. This content tool allows you to use almost all of the above possibilities - personalization, blogging, conceptual content creation, gamification, attraction of influencers, and also gives access to many other content marketing tools. Moreover, it's one of the most inexpensive ways to launch your own media and start increasing user engagement right now.