Mobile Marketing
AI in mobile apps: how far does the current thread goes?
AI has always been a boon in sustaining current market competition and the growth of the mobile app development industry.

The global artificial intelligence software market has been rapidly increasing over the years, reaching around USD 126 billion by 2025.

This is why entrepreneurs look forward to implementing artificial intelligence in mobile app development. If you are also one of them and looking for the ins and outs of AI for app development, then read this blog.

Being a top mobile app development services provider, we researched and discussed how to implement AI to develop featureful mobile apps. This blog includes complete information about the role of AI app development, reasons to integrate AI in app development, and a cost breakdown of app development. Read on to know more.
What is Artificial Intelligence in mobile apps?
Artificial Intelligence is a simulated version of human intelligence that thinks similarly to humans and copies their actions.
According to AI researchers, artificial intelligence perceives the surrounding environment and takes action to increase its chances of achieving its goals. AI has been used in computer programs for a long. However, now it is applied in many services and products, especially in mobile application development.

For example, nonexpert drivers face many challenges when it comes to driving or parking accurately. However, AI offers cars 'the power to see, think, and learn' to revolutionize how people drive by enabling vehicles to drive and park themselves. Currently, Tesla, Toyota, Mercedes-Benz, Audi, and Volvo are using this AI-powered technology for self-driving and parking vehicles.
Role of AI in Mobile App Development
AI plays a significant role in all steps of the mobile app development process to drive innovation and creativity. Artificial intelligence technology in mobile applications uses the ability of a machine to understand and respond to stimulation to offer the best user experience.
The main goal of using AI in mobile apps is to solve day-to-day problems faced by users and make life more comfortable. AI can collect essential data from mobile phones, such as location, contacts, and daily actions, to enhance user engagement and solve complex problems.
AI-enabled apps collect and store data by analyzing user behavior and how users interact with the app. In short, artificial intelligence lets you develop AI-powered mobile apps to transform and ease human needs.
The crucial roles of AI in development are:
 
Search engine optimization

Increment in automation level

Automated logical reasoning

Automatic reply function

AI & IoT amalgamation

Highly personalized user experience

Enabling real-time translation

AI-powered chatbots

Enhanced security with facial recognition

Apart from these uses of AI in mobile apps, you can also learn more by reading our post on AI app ideas using OpenAI API.
The Top Artificial Intelligence Technologies For Mobile Applications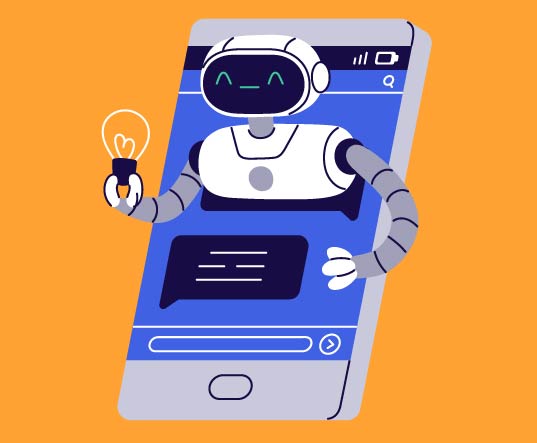 1. Speech Recognition Technology
That is one of the most popular Artificial Intelligence technologies for mobile applications. This is a voice control system with speech recognition. Let's take the example of Siri and Cortana. They are responsible for converting human speech into a language the computer understands. Numerous mobile app development companies integrate this function into their applications. It then becomes compatible with Artificial Intelligence trends.
2. Chatbots
This Artificial Intelligence feature is of great use when it comes to developing mobile applications. It helps companies interact with the people who fill out the feedback form while inquiring about the company and its development processes.
3. Natural Language Technology
If you are looking for ways to develop an application for customer service purposes, then natural language technology is the Artificial Intelligence technology you need to integrate.
4. Machine Learning
It is one of the most developed and primary Artificial Intelligence technologies that integrate with most applications. Machine learning technology is exceedingly beneficial when it comes to classification and forecasting. If you run a business that involves forecasting, then having an AI business application helps to a great extent.
5. Biometrics
With the help of this AI technology, it is easy to analyze, identify, and measure human behavior. Recognizing the physical aspects, shape, structure, and size of the human body becomes easy. Biometric Artificial Intelligence technology performs sensory recognition, gesture control, and voice recognition. It helps in marketing and research.
6. Emotion Recognition
Artificial Intelligence plays a crucial role in reading human emotions from the face. Emotion recognition technology uses advanced image processing to allow the capture of human feelings with voice intonation and speech signals. This technology is exceedingly popular among various startups.
 
7. Image Recognition
This is a great addition for mobile app development and depends on detecting any object through a digital or video image. This technology identifies license plates, analyzes clients, and diagnoses diseases.
 
8. Quick Interaction And Competitive Business Solutions
Since the introduction of machine learning in Artificial Intelligence, businesses are already transforming the methods of engaging their users. With AI's personalized information, companies, developers, and patrons can consider the possibility of having intelligent interactions within mobile applications. This highly versatile technology is responsible for learning the choices and trends of users and later processes the information to deliver precise solutions.
Examples of AI in Mobile Apps
SeeingAI — Real-time assistance for visually impaired
SeeingAI uses an AI-based algorithm to assist people with visual impairments. The app scans the surroundings and narrates what's happening around a user. The app can also recognize the faces of people nearby from photos stored on the phone.
Hopper — Travel recommendations and best deals
Hopper lets travelers book hotel rooms, flights, and car rentals at affordable rates. The app uses artificial intelligence to feed its predictive algorithm and suggest the best dates to travel. Anyone can use the app to discover the most affordable hotel rooms, flights, etc. for up to one year in advance. The app also provides personalized recommendations based on past travel history.
Tinder — Matching algorithm and personal safety features 
The popular dating app has been using AI to power its matching algorithm since the beginning. Now, it is using AI to add extra layers of safety and security features. The app automatically flags inappropriate content and offensive messages, thanks to AI.
Pager — Health recommendations via predictive analytics 
Pager helps patients take care of themselves without extra effort. The app analyzes healthcare information, past claims data, and offers periodic health recommendations. Pager can alert professionals and also schedule appointments if needed.
How you can use AI with InAppStory?
Yes, that's right! If you need to delegate some of your work processes or tasks for creating an impactful mobile app Story, you can do so with the power of AI! We specifically prepared some videos so that you can do so without a hassle.
Here's a guide on how to create powerful text for your Stories:
While here is a small guide on implementation of images in your Story:
Conclusion
Artificial intelligence can help apps get better at delighting their users and winning over competitors. When developing a mobile app, you can consider implementing AI from the start or wait until more data streams in that backs the implementation. With AI, you can enhance the end-user experience, get relevant audience insights, and create a seamless solution that users love.