Mobile Marketing
7 steps how to launch media in a mobile app
In the digital era, there is at least one marketing fundamental that is acknowledged by everyone: you have to communicate with customers. The communication should be regular, relevant, personal, native and engaging. Introverts may argue, but the metrics are bold: the web-sites of companies that regularly publish content receive 55% more visitors.
SMM presence is a necessary media minimum for a business today. Companies that decide to go further launch a corporate media, blog or private group in social network. Another relatively new and efficient way to connect with your customers and to increase value proposition is use of stories in a mobile application or a website. It is one of the fastest growing and the most popular communication tools nowadays. The content in stories is visual, tappable and engaging, and can be intuitively created by anyone familiar with Facebook or Instagram. It's also easy to start - you can integrate stories to your mobile app or website in just a couple of clicks with minimum coding.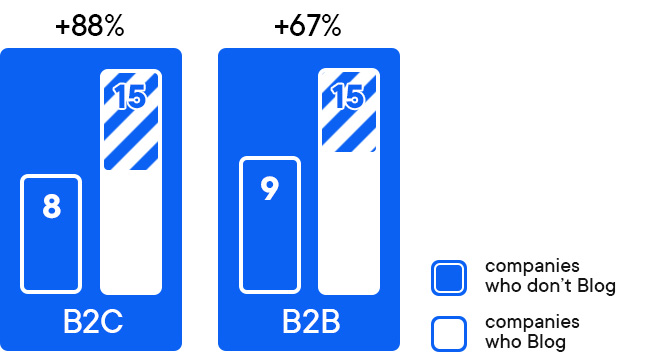 The number of leads from companies which have started blogs and those which have not
If you have already launched a bunch of media or content projects and have proven traction and metrics of success, then you're better to stop here. For those who do not, we identified seven critical steps to ensure that your content marketing is efficient and you could benefit from growing customer engagement.
 
1. Identify your target audience   
When launching corporate media, it is important to understand from the very beginning how you will communicate to your customers and what their needs you will address. To achieve this, you need to identify your target audience (TA) at first. For many this normally results in segmentation: few companies work with a narrow group of customers. For example, food delivery services could blend parents and retirees as client groups, telecom companies - office managers from large cities and commuting migrants. How to start communication, and how to prioritize your target with this variety?
You can proceed in several ways: select the largest / wealthiest / the most loyal group of clients and communicate in the way familiar to them; select several equal groups and apply universal contact policy; or try to split segments and reach everyone considering their specifics as much as possible. This is a question of how to balance marketing communications: from extreme targeting to maximum reach. The first requires a deep knowledge of each segment to be efficient and solid marketing budgets. Remember, the content and creativity in communication is subject to how you identify and address your target audience.
2. Evaluate the value of media for the audience
 
To do this you need to answer the question: "Why should a user return to your service or product, what incentives he or she have?" The better and the more detailed your answer - the more popular your media will be. If the communication is weak and does not address a real deep need of the target audience, then no one will value it and there will be little benefit for the business.
Think about what topics your users are most interested in while browsing your service? At a furniture store, this may be information about the materials sustainability, in a food retail app - about well-being or cooking. It's crucial to be specific and address your target audience in the most relevant way - for example it is unlikely that users of a banking application are looking of how to quickly fix plumbing in a rented apartment abroad. Here is a tip: everyone is interested in how to save money on your type of product or service.
 
3. Determine the value of media for company      
Each marketing tool must have a specific purpose and goals for business, and media is no exception. Decide why you are building media: improved loyalty, better retention, increase in sales?
According to Content Marketing Institute, the most common uses of content for companies are:
Increase brand awareness - 84%      

Educate the audience - 75%      

Build trust in relations with customers - 65%


 
It is possible (and even necessary) to keep several business goals in parallel, but one should still be in priority - this will give basis to the development strategy of your service and help make decisions in ambiguous situations. It will also allow you to draw up a content strategy more professionally and understand what to tell your audience and how.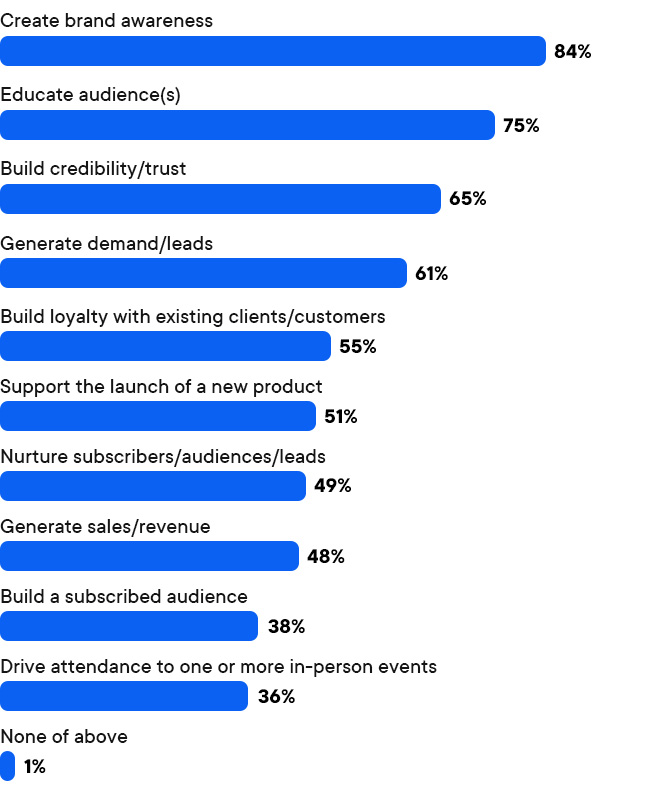 The goals that B2C companies have achieved by using content marketing
4. Split commercial and lifestyle content properly     

Yes, commercial content can be both useful and engaging - if you are telling something valuable to the user or making exclusive offers. But as soon as its presence overcomes a certain threshold, it starts to annoy. If you non-stop offer to buy something, customers will think that they are simply being used or manipulated, and they will churn forever. This is the worst case scenario to underline the importance of balance and moderation of media content you publish to the customers.
In the feed of stories, we recommend not to exceed the share of 30-40% in commercial use. The rest of the content should be lifestyle which means 'created for the needs and in interests of users'. Native advertising, in which you sell something on the basis of  customer interests - entertainment, shopping, travel - should also be classified as commercial.
5. Choose your media style
Now you know how to identify your target audience and your goals. This should help to determine the proper copyright and visual style. For example, slang and more open communication are normal for a young audience; or specific color types are generally used with premium clients to highlight their identity. Your business priorities will also shape the approach to content policy: use more interactive techniques to boost customer engagement, or create educational stories to increase the app session duration, or write down engaging headlines to improve conversion rates.

Using content marketing is radically changing brand perception
6. Find great creative managers      
In the era of Instagram, Tik Tok, Facebook, YouTube and endless digital media the users attention is an asset with extremely high value. Customer engagement is subject to the distribution capacity of your platform and the quality of the content you publish. Even focusing entirely on the target audience  and completely eliminating commercial publications, you will not be successful if your content is weak and prepared by non professionals .
Always search for the creators who already have a name in relevant media. Even the most promising beginners or professionals from other specialities need time to adapt.
As an alternative the outsource service from a company that has relevant experience could be an option. It will save your time and help to focus more on core business. We at InAppStory have launched thousands of campaigns in stories and accumulated unique expertise and knowledge of how to communicate in the most efficient and engaging way with customers within the app. 
7. Define a long-term service development strategy         
To be continuously successful for a long time, it is important to set long term objectives. Plan properly how you would like to see your media in three months, six months and in a year. What goals and specific metrics should define your success - monthly and daily media audience, the average app session duration, the clickthrough rates, and so on. This will make your growth path more solid and powerful.
Also define what media products, techniques and formats help you to differentiate and achieve your long term objectives. In the case of stories, this can be something that requires complex production - animation or video stories, or use of big data and segmentation - for instance, personalized stories.
Increase value proposition of your product through own media
Launching any media is not an easy process that requires a certain level of expertise, skills and professionalism. It is often easier, faster and more efficient to partner with somebody who specializes in it. We at InAppStory have a seasoned team who accumulated unique experience and are now ready to help to build your own media in the way you and your customers will love each other. And at the same we are ready jointly with you to be committed to long term success by focusing on specific metrics and KPIs.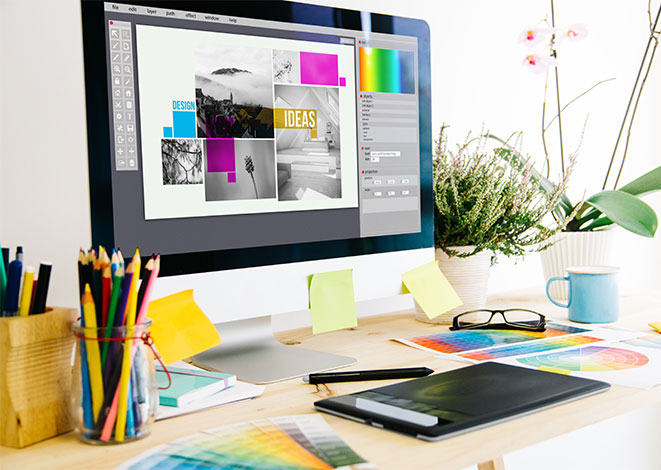 Selecting between concept vision for stories creation, definition of content plan, copyright and design production - choose the scope you needed for your current situation.
There are things that are important to be made in-house, and there are things that have to be delegated. The decision is yours but we strongly believe that content creation and building of media are much more beneficial while being outsourced.
Want to write for us? Check this