Digital News
Why Google launched Web Stories and why your business needs it
The search engine announced the launch of AMP Stories in early 2018. The implication was that the format would be similar to social networks, with a focus on mobile devices, visual components and wide functionality. The difference was in its accessibility: if Instagram Stories can be viewed only on the site itself, then content from Google should be distributed much more widely on the Internet.
Launching the project took a long time. As late as May 2020, Google rebranded the project, renamed its Stories to Web Stories, and then invited everyone to test the format. In October 2020, the company announced the launch of Web Stories on its Google Discover mobile app in three regions: the United States, Brazil, and India. Then, in the header of the company's app, a Website Stories ribbon (carousel), familiar to everyone on social networks, appeared.
The essence of the feature's mechanics remains unchanged and has been familiar to everyone for a long time: we tap and swipe to scroll and move on to the next Website Story. Highly indexed Stories by the search engine began to appear in recommendations on the main search engine page. In addition, Web Stories began to appear in Google Images.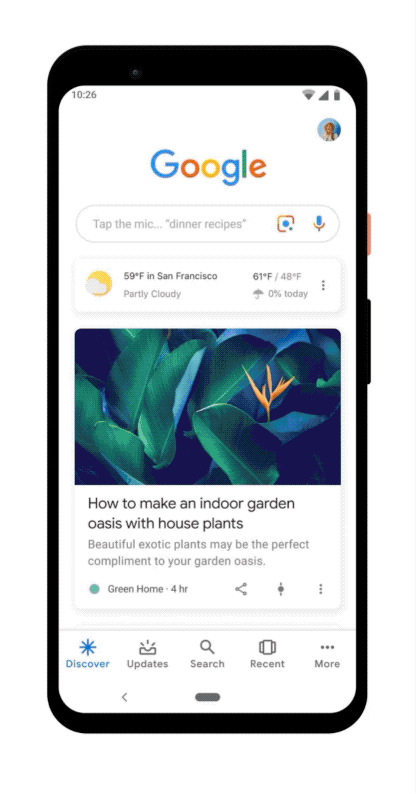 Anyone can publish Google Stories: companies, media publishers, and anyone else who wants to. In the Stories, you can use pictures, video / animation, and audio. They offer users the option to create content in an external editor: Web Story editor for WordPress, MakeStories, NewsroomAI, and many others. All the tools for working with content are pretty simple and intuitive, and there are templates available. The search engine also allows you to publish quizzes and surveys, and customize the display duration of the Stories on Google — you can even pin them to your feed forever. The company calls the Stories "completely immersive," in part because they are displayed in full screen.
Source: Google
Google Stories are shown on smartphones, tablets and desktop devices. Stories can be posted on the company's website. The platform has some restrictions on content creation, but they are rather mild, and it compares favorably with social networks.
Displaying Google Stories on your site along with search engine indexing helps to attract additional traffic to your business. And, since Google Stories are stored on the content creators' own servers, they are available to use, for example, in emails or on individual landing pages. View statistics can be tracked through Google Analytics.
Stories are created using Accelerated Mobile Pages technology. Google has a detailed tutorial on how it works for those who are interested. Before publishing Stories, it is important to set up metadata exchange. This will allow you to display previews on the network; i.e., show preview pictures and titles of Stories.
Google Search Central channel about what is Web Stories 
Among other settings, it is important to check if the pages are indexed. This can be done using a special tool. Google also has the ability to check the validity of page creation using the AMP Test tool.
The bottom line
Stories are by far the most important content creation trend today, and one of the largest and most important companies in the digital world hasn't missed the opportunity to use it, and in a rather original manner through the use of its own giant infrastructure.
In many aspects, the tool significantly outperforms its counterparts in social networks, because it provides much broader capabilities for publishing content. And links embedded in buttons on slides allow you to promote your own products and services in a new way. In fact, Google Stories creators completely control the process of creating, posting and monetizing their content in this format.
The ability to post Stories on your site, of course, makes this tool very convenient and attractive for business, especially given the wide possibilities for creating content. There is only one thing that might be worth noting here: the next step in the development of the format and promotion of companies with the help of content is the publication of Stories both on websites and in mobile applications, which have already significantly surpassed mobile browsing in terms of user demand. And for this, it makes sense to turn to specialized service providers such as InAppStory, for example.
Want to write for us? Check this